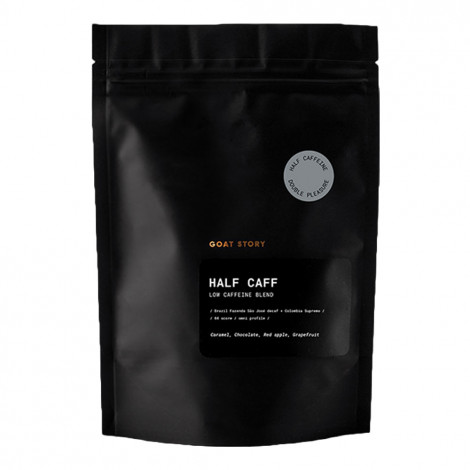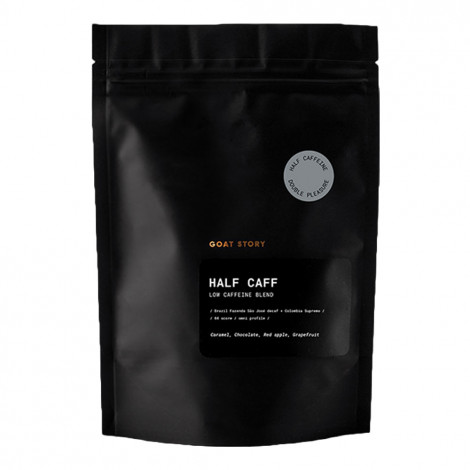 Low-caffeine specialty coffee bean blend Goat Story Fifty-Fifty, 250 g
Brazil, Colombia, South America
Single-origin
Medium
Product is no longer in production.

Low-caffeine specialty coffee bean blend Goat Story Fifty-Fifty, 250 g
In Stock
Specifications
Coffee kind
Single-origin
Coffee origin region
Brazil, Colombia, South America
Country of Origin
Slovenia
Arabica variety
Catuai, Caturra
Coffee beans type
100% Arabica, Specialty coffee
About product
You love coffee soooo much! But it's giving you the shake-up. If this sounds familiar, choose a coffee blend with half the caffeine in it! It'll let you enjoy delicious coffee without caffeine giving you the shakes. This blend of two single-origin coffees — "Colombia Supremo" and the naturally decaffeinated "Brazil Sao Jose" — is willing to compromise when it comes to caffeine, yet stil ensures peak flavour.
Let's face it: caffeine can be complicated. Get too much of it in your system and you'll get the shakes. That's not a problem for moderate coffee drinkers — but if you're hooked on coffee, you know exactly what we mean. This is why Goat Story created the "Fifty-Fifty" low-caffeine blend.
How did they do it? It's simple. They blended two smooth coffees using the ideal half-and-half ratio. The result is a super tasty coffee with half the caffeine in it — which means you can drink twice as much. Good stuff!
Perfect for: espresso
Also great for: filter, ibrik, French press, Aeropress, cold-brew
Due to its exceptional quality and taste, this coffee is marked as Specialty. SCA quality score: 84 points out of 100.
COUNTRY: Brazil, Colombia
REGION: Sao Jose (Brazil), Huila (Colombia)
ALTITUDE: 900–1500 m
VARIETY: Caturra, Catuai, Mundo Novo
PROCESS: Natural + Washed
ROAST PROFILE: Medium
FLAVOUR PALETTE: Caramel, Chocolate, Red apple, Grapefruit
Ingredients: roasted coffee beans.
Storage conditions: store in a dry, cool place.
Taste guide
Caramel
Chocolate
Grapefruit
Red apple
Coffee passport
Coffee origin region
Brazil, Colombia, South America
Coffee kind
Single-origin
Frequently Asked Questions
Ask your question about the product