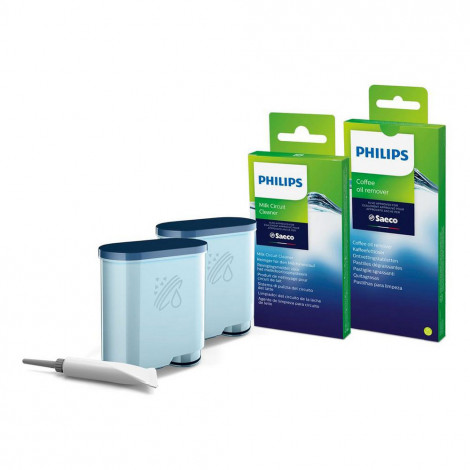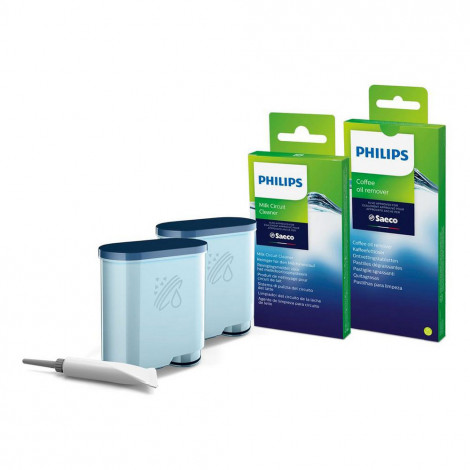 Maintenance kit Philips CA6707/10
Product is no longer in production.

Maintenance kit Philips CA6707/10
In Stock
Specifications
Type
Other maintenance products
Country of Origin
Romania
About product
For the coffee machine to prepare quality coffee, it requires regular maintenance. Espresso coffee machines' maintenance kit Philips "CA6707/10" ensures that the main coffee machine functions would work impeccably.
The kit consists of milk circuit cleaner, coffee oil remover, "AquaClean" filter, and brew group lubricant. This maintenance kit will last for half a year!

AQUACLEAN FILTER
New and patented Saeco innovation "AquaClean" water filter gives you a chance to use all of your automatic coffee machine's possibilities. This filter allows you to prepare up to 5000 cups of coffee without descaling. When "AquaClean" filter is integrated, notes about descaling are deactivated automatically. It's recommended to change the filter every 3 months.
MILK CIRCUIT CLEANER
Using this Saeco cleaner keeps espresso coffee machine's milk circuit clean. This cleaner not only protects the milk circuit from clogging, but also improves the taste of your coffee. It's recommended to use this cleaner once a month.
COFFEE OIL REMOVING TABLETS
These cleaning tablets will remove all the coffee oil residues which are on the inside of the coffee machine. It ensures that every cup of coffee would taste and smell perfectly. It's recommended to use the tablets once per month.
LUBRICANT FOR BREW GROUP
This grease from Saeco will help you to maintain your machine's boiling mechanism. Cleaning the block regularly results in smooth and effortless operation of your coffee machine's moving parts. The grease is safe to use.

Frequently Asked Questions
Ask your question about the product