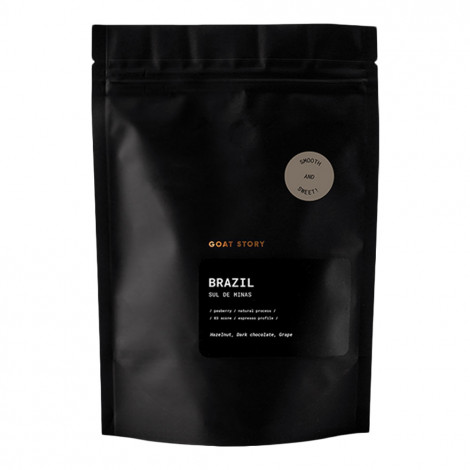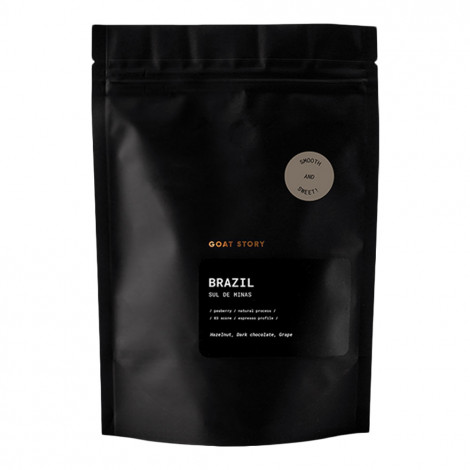 Specialty coffee beans Goat Story Brazil Sul de Minas, 250 g
Brazil, South America
Single-origin
Medium
Product is no longer in production.

Specialty coffee beans Goat Story Brazil Sul de Minas, 250 g
In Stock
Specifications
Coffee kind
Single-origin
Coffee origin region
Brazil, South America
Country of Origin
Slovenia
Coffee beans type
100% Arabica, Specialty coffee
About product
Smooth and creamy, these beans are perfect for sweet espressos and aromatic ibrik! "Brazil Sul de Minas" is a no-brainer for all coffee lovers who respect a classic cup that actually tastes like coffee, but has no trace of the "burnt" flavour characteristic of dark roasts. This classic, full-bodied, naturally processed coffee from Brazil works equally well with or without milk.
Once you open this pack of coffee, you'll notice something different. Aren't these coffee beans the cutest you've ever seen?! A little rounder, a little smaller, a whole lot prettier than your regular ones. That's because this year, Goat Story came across a truly unique kind of coffee. These beans are called "peaberries". What's so special about them, you wonder?
A peaberry is the result of natural mutation occuring inside the coffee cherry. Normally, every cherry contains two coffee seeds (or, as we call them, beans) that lay flat against each other — much like two halves of a peanut. Something funny happens with about 5% of the total coffee grown in the world though. A coffee cherry produces a single child instead of a set of twins. You know how it works afterwards… A single child gets more attention because it doesn't have to share it with its sibling. Because peaberries get all the love that's usually divided amongst coffee twins, these beans tend to be sweeter and packed with more flavour than the standard ones.
Peaberries are usually mixed with regular beans in Brazilian coffees. But when Goat Story came across a selected range of peaberry beans from Brazil, they, of course, went all in. Here it is: the Brazilian peaberry from one of the most famous coffee-growing regions in the world, Sul de Minas.
Perfect for: espresso
Also great for: ibrik, moka pot
Due to its exceptional quality and taste, this coffee is marked as Specialty. SCA quality score: 83 points out of 100.
COUNTRY: Brazil
REGION: Sul de Minas
ALTITUDE: 950 m
VARIETY: Peaberry
PROCESS: Natural
ROAST PROFILE: Medium
FLAVOUR PALETTE: Hazelnut, Dark chocolate, Grape
Ingredients: roasted coffee beans.
Storage conditions: store in a dry, cool place.
Taste guide
Dark Chocolate
Grape
Hazelnut
Coffee passport
Coffee origin region
Brazil, South America
Coffee kind
Single-origin
Frequently Asked Questions
Ask your question about the product