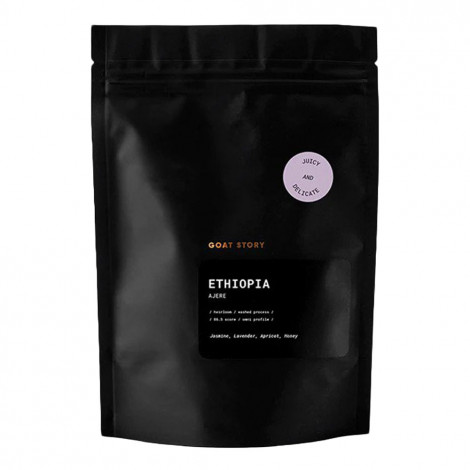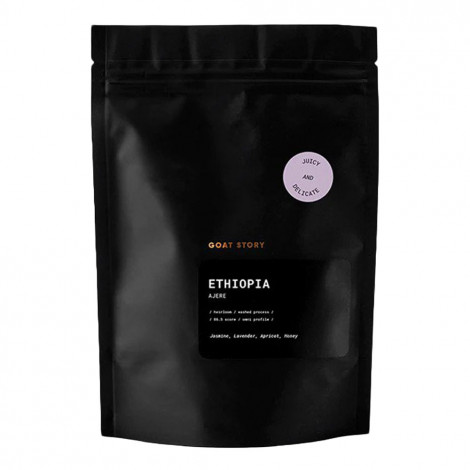 Specialty coffee beans Goat Story Ethiopia Ajere, 250 g
Ethiopia
Single-origin
Medium light
Product is no longer in production.

Specialty coffee beans Goat Story Ethiopia Ajere, 250 g
In Stock
Specifications
Coffee kind
Single-origin
Coffee origin region
Ethiopia
Roasting level
Medium light
Country of Origin
Slovenia
Coffee beans type
100% Arabica, Specialty coffee
About product
This juicy Yirgacheffe coffee is a delicious result of special care taken when producing it at the Ajere washing station. Once Goat Story has applied the magic touch of a gentle roast, you're treated with one of the finest Ethiopian washed coffees available on the market right now.
The Ajere washing station was founded in 1998 by Amare Tesema. Today, anywhere between 800 and 850 smallholder farmers deliver their cherries to the Ajere washing station, which measures 1.9 ha. It's located in the Gedeo zone, which borders the zone of Guji to the east, Borena to the south and west, and Sidama to the north. The station supports local community schools by, for example, building new classrooms. There's more to Ajere than its communal spirit though. While the coffee is being sun-dried in the station, it's turned and raked periodically for consistent drying, then covered during the hottest part of the day to protect it from mid-day sun, as well as during the night to safeguard it from rainfall and moisture. This results in a spectacularly sweet and fragrant cup of coffee.
Perfect for: filter brewing methods
Also great for: espresso, French press, Aeropress, cold brew
Due to its exceptional quality and taste, this coffee is marked as Specialty. The SCA score amounts to 86.5 points out of 100.
COUNTRY: Ethiopia
REGION: Gedeo
ALTITUDE: 1950 m
VARIETY: Heirloom
PROCESS: Washed
ROAST PROFILE: Light to medium
TASTING NOTES: Jasmin, Lavender, Apricot, Honey, Floral
Ingredients: roasted coffee beans.
Storage conditions: store in a dry, cool place.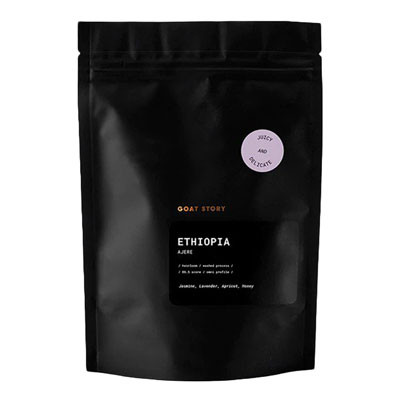 Taste guide
Floral
Honey
Jasmine
Peach
Coffee passport
Coffee origin region
Ethiopia
Coffee kind
Single-origin
Roasting level
Medium light
Frequently Asked Questions
Ask your question about the product