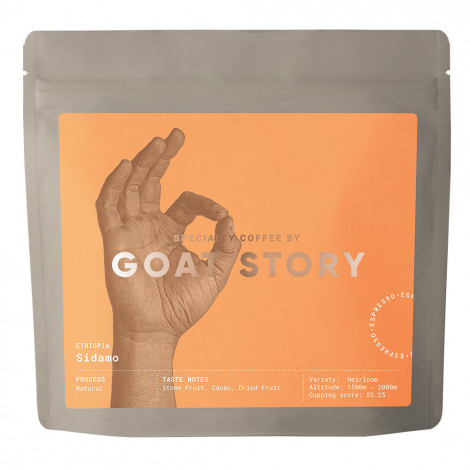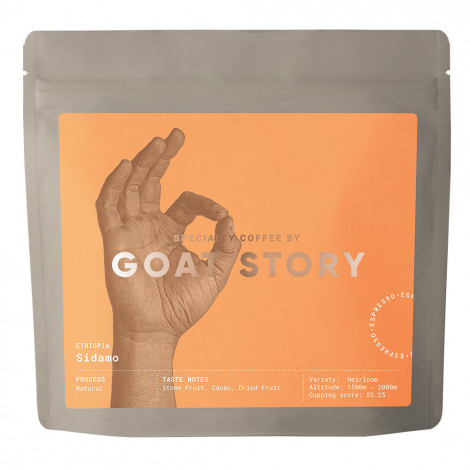 Specialty coffee beans Goat Story Ethiopia Sidamo, 250 g
Ethiopia
Single-origin
Medium
Product is no longer in production.

Specialty coffee beans Goat Story Ethiopia Sidamo, 250 g
In Stock
Specifications
Coffee kind
Single-origin
Coffee origin region
Ethiopia
Country of Origin
Slovenia
Coffee beans type
100% Arabica, Specialty coffee
About product
"Ethiopia Sidamo" will let you indulge in an extremely complex and exciting taste – in the prepared drink, notes of cacao are unveiled, accompanied by the juiciness and sweetness characteristic of stone fruit. Rounded off with a pleasant, long-lasting dried fruit aftertaste, this coffee is perfect for a cup of sweet espresso or milk-based coffee.
Perfect for: espresso
Also great for: milk-based drinks, ibrik, French press, Aeropress
Due to its exceptional quality and taste, this coffee is marked as Specialty. The SCA has scored it 82.25 points out of 100.
COUNTRY: Ethiopia
REGION: Sidamo
ALTITUDE: 1500–2000 m
VARIETY: Heirloom
PROCESS: Natural
ROAST PROFILE: Medium
TASTING NOTES: Stone fruit, Cacao, Dried fruit
Ingredients: roasted coffee beans.
Storage conditions: store in a dry, cool place.
Taste guide
Chocolate
Dried Fruit
Stone Fruit
Coffee passport
Coffee origin region
Ethiopia
Coffee kind
Single-origin
Frequently Asked Questions
Ask your question about the product