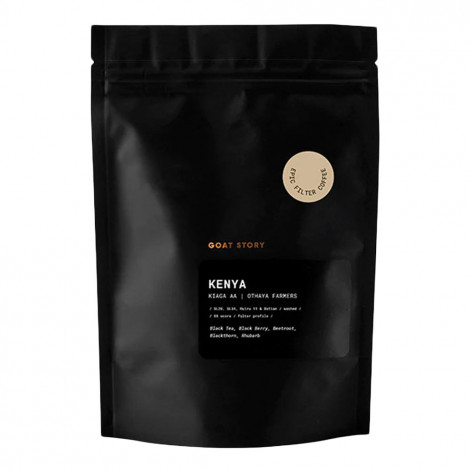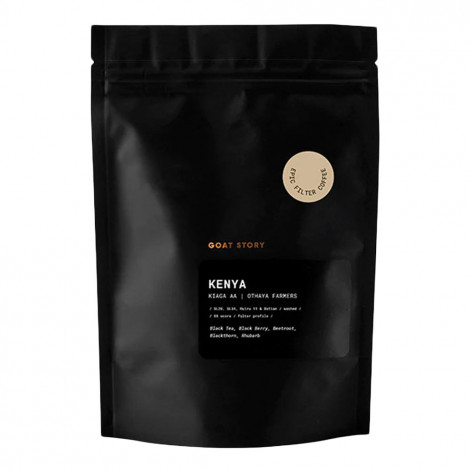 Specialty coffee beans Goat Story Kenya Kiaga AA, 500 g
Kenya
Single-origin
Light
Product is no longer in production.

Specialty coffee beans Goat Story Kenya Kiaga AA, 500 g
In Stock
Specifications
Coffee kind
Single-origin
Coffee origin region
Kenya
Country of Origin
Slovenia
Arabica variety
SL28, SL34
Coffee beans type
100% Arabica, Specialty coffee
About product
You may have tasted a great cup of coffee before—but when it comes to true complexity of flavours, "Kenya Kiaga AA", lovingly produced by the Othaya famers, rivals all the rest. It's quite simply one of the finest Kenyan coffees we've had the chance of trying. Ever.
This exceptional washed variety is produced by the Othaya Farmers Co-operative Society, which consists of around 420 producers operating their own dry mill located in Gatuyaini. The dry mill also boasts its own cupping lab for quality analysis.
The trick of Kenyan coffees from the Nyeri region is that they grow slowly, at high altitudes, producing super hard, dense beans. With density of beans comes density of flavour! Add to this the unique red volcanic soil that's rich in phosphorus, and you'll get coffee from the very heart of Kenya that's guaranteed to leave you coming back for more. And more. And more.
Perfect for: pour-over (filter) brewing methods
Also great for: French press, Aeropress, cold brew, espresso
Due to its exceptional quality and taste, this coffee is marked as Specialty. The SCA score amounts to 88 points out of 100.
COUNTRY: Kenya
REGION: Nyeri
ALTITUDE: 1900 m
VARIETY: SL28, SL34, Ruiru 11, Batian
PROCESS: Washed
ROAST PROFILE: Light
TASTING NOTES: Black tea, Blackberry, Beetroot, Blackthorn, Rhubarb
Ingredients: roasted coffee beans.
Storage conditions: store in a dry, cool place.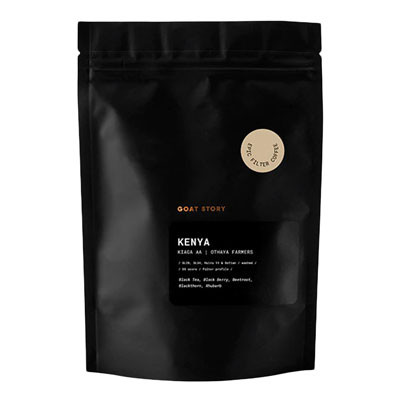 Taste guide
Black Tea
Blackberry
Rhubarb
Coffee passport
Coffee origin region
Kenya
Coffee kind
Single-origin
Frequently Asked Questions
Ask your question about the product