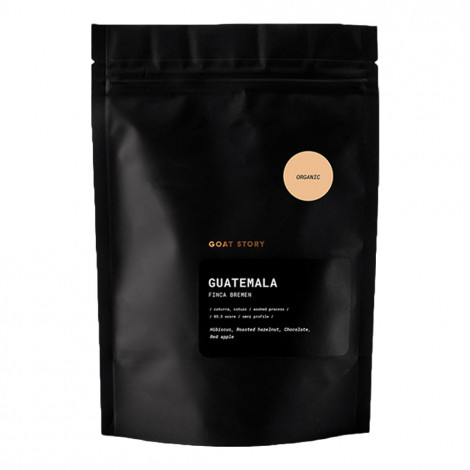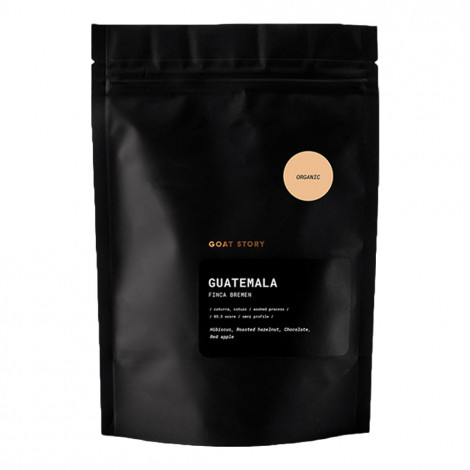 Specialty coffee beans Goat Story Guatemala Finca Bremen, 250 g
Guatemala
Single-origin
Medium light
Product is no longer in production.

Specialty coffee beans Goat Story Guatemala Finca Bremen, 250 g
In Stock
Specifications
Coffee kind
Single-origin
Coffee origin region
Guatemala
Roasting level
Medium light
Country of Origin
Slovenia
Arabica variety
Catuai, Caturra
Coffee beans type
100% Arabica, Specialty coffee
About product
Goat Story says that for a very long time, they've been looking for a smooth one-for-all coffee — the kind of coffee that you can brew using a filter or put it under pressure in your espresso machine. The organic "Guatemala Finca Bremen" hits the spot, excelling in any brewing method. It's characterised by gentle acidity and a smooth melange of hibiscus, roasted hazelnuts, milk chocolate and red apples.
The "Finca Bremen" coffee farm was founded almost 130 years ago by Roberto Thomae. The same family has been ruling over it for three generations, all of whom have learned to value sustainable cultivation and organic coffee above all else. The farm is located in the Purulha region and varieties such as Caturra and Catuaí are grown there. Limestone soil endows the beans with a very special flavour profile. On average, the coffee grows at an altitude of about 1100 meters.
Perfect for: pour-over (filter) brewing methods
Also great for: espresso, ibrik, French press, Aeropress, cold brew
Due to its exceptional quality and taste, this coffee is marked as Specialty. The SCA has scored it 85.5 points out of 100.
COUNTRY: Guatemala
ESTATE: Finca Bremen
ALTITUDE: 1100 m
VARIETY: Caturra and Catuai
PROCESS: Washed
ROAST PROFILE: Light medium
TASTING NOTES: Hibiscus, Roasted hazelnuts, Milk chocolate, Red apples
Ingredients: roasted coffee beans.
Storage conditions: store in a dry, cool place.
Taste guide
Hibiscus
Milk Chocolate
Red apple
Roasted hazelnuts
Coffee passport
Coffee origin region
Guatemala
Coffee kind
Single-origin
Roasting level
Medium light
Frequently Asked Questions
Ask your question about the product