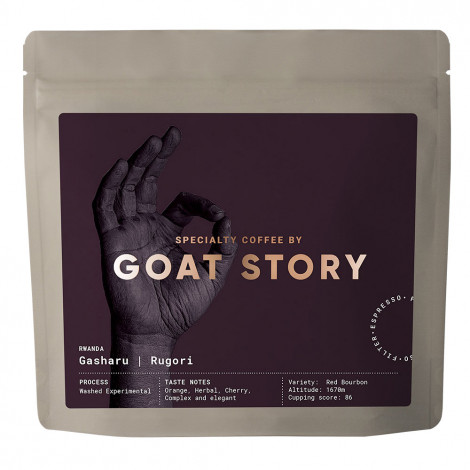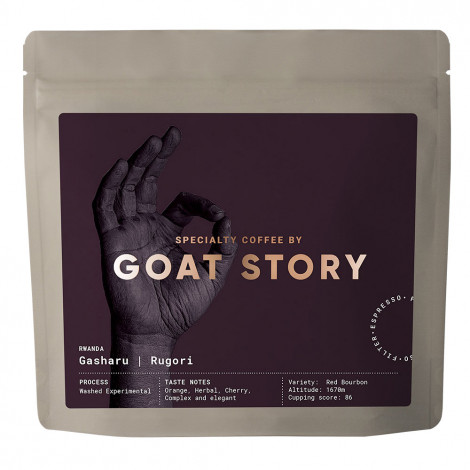 Specialty coffee beans Goat Story Rwanda Gasharu Rugori, 250 g
Africa, Rwanda
Single-origin
Light
Product is no longer in production.

Specialty coffee beans Goat Story Rwanda Gasharu Rugori, 250 g
In Stock
Specifications
Coffee kind
Single-origin
Coffee origin region
Africa, Rwanda
Country of Origin
Slovenia
Coffee beans type
100% Arabica, Specialty coffee
About product
"Making women's work count in the coffee industry" — this goal is the inspiration behind the extremely feminine, complex and elegant "Rugori" coffee (its exotic name means "Woman's Crown"), which is characterised by pleasant, multilayered acidity and tea-like body. The fully washed, experimental batch presented here has been produced and processed by women only. In the prepared drink, notes of red berries, apples, green tea, oranges, herbs and cherries are unveiled.
Perfect for: pour-over (filter) brewing methods
Also great for: espresso, cold brew, French press, Aeropress
Due to its exceptional quality and taste, this coffee is marked as Specialty. The SCA has scored it 86 points out of 100.
COUNTRY: Rwanda
ALTITUDE: 1580–2100 m
VARIETY: Red Bourbon
PROCESS: Washed Experimental
ROAST PROFILE: Light
TASTING NOTES: Red berries, Apples, Green tea, Oranges, Herbs, Cherries
Ingredients: roasted coffee beans.
Storage conditions: store in a dry, cool place.
Taste guide
Apples
Cherry
Green tea
Herbal
Orange
Red berries
Coffee passport
Coffee origin region
Africa, Rwanda
Coffee kind
Single-origin
Frequently Asked Questions
Ask your question about the product