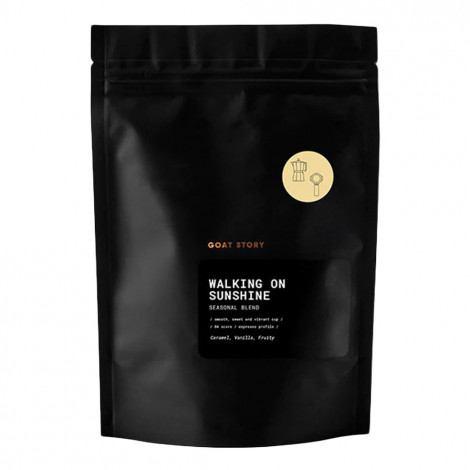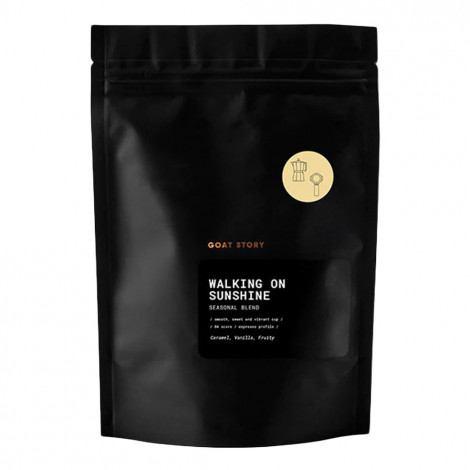 Specialty coffee beans Goat Story Walking on Sunshine Seasonal Blend, 500 g
Brazil, Nicaragua
Single-origin
Medium
Product is no longer in production.

Specialty coffee beans Goat Story Walking on Sunshine Seasonal Blend, 500 g
In Stock
Specifications
Coffee kind
Single-origin
Coffee origin region
Brazil, Nicaragua
Country of Origin
Slovenia
Arabica variety
Bourbon, Catuai
Coffee beans type
100% Arabica, Specialty coffee
About product
Crafted to brew the perfect espresso, this coffee boasts just the right amount of fruity goodness, with no bitterness involved. As seasons pass and crops change, so does the "Walking on Sunshine" blend, allowing you to appreciate the seasonality inherent in coffee production.
"Walking on Sunshine" is a dedicated espresso blend that combines the classic notes of caramel and vanilla with a new fruity dimension. No bitterness and subtle acidity create a vibrant, tasty cup. While the blend works great as an espresso, it also goes well with milk!
The blend currently includes:
60% Brazil Coletivo Caparaó
40% Nicaragua Los Placeres
Perfect for: espresso
Also great for: Turkish coffee, moka pot, French press
Due to its exceptional quality and taste, this coffee is marked as Specialty. The SCA score amounts to 84 points out of 100.
COUNTRY: Brazil, Nicaragua
REGION: Caparaó, Los Placeres
ALTITUDE: 900–2000 m
VARIETY: Bourbon, Catuai
PROCESS: Natural
ROAST PROFILE: Medium
TASTING NOTES: Caramel, Vanilla, Fruity
Ingredients: roasted coffee beans.
Storage conditions: store in a dry, cool place.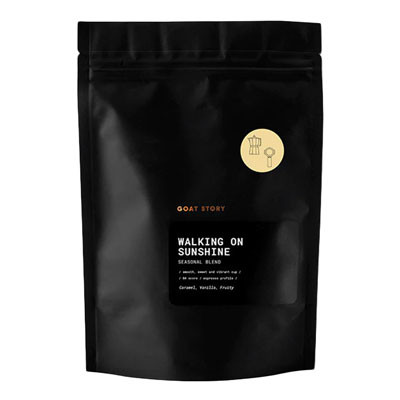 Taste guide
Caramel
Fruit
Vanilla
Coffee passport
Coffee origin region
Brazil, Nicaragua
Coffee kind
Single-origin
Frequently Asked Questions
Ask your question about the product