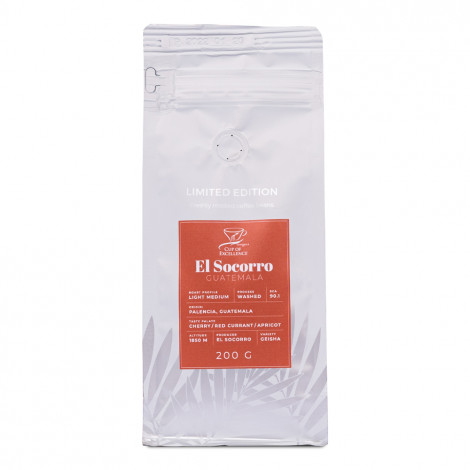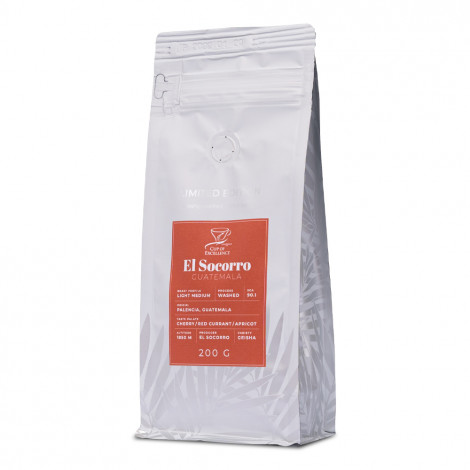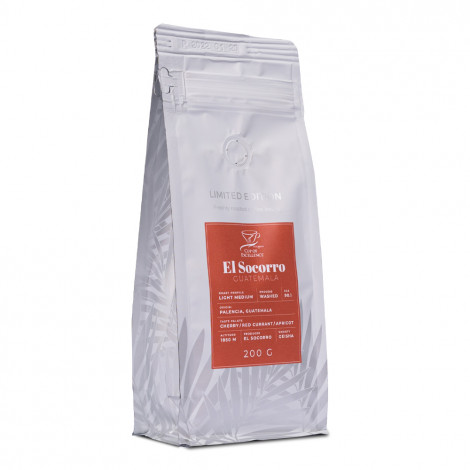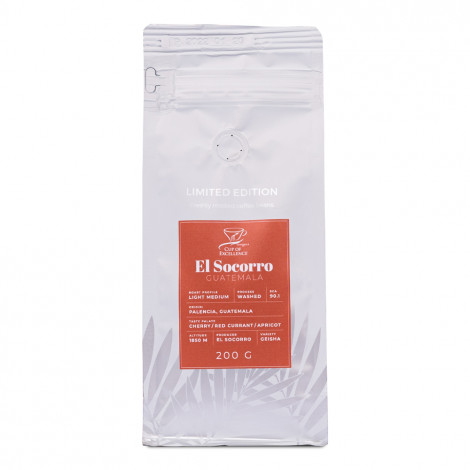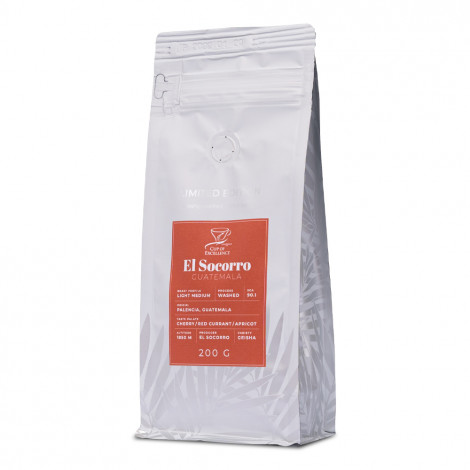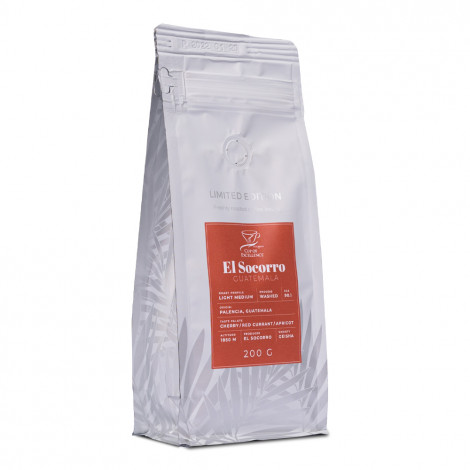 Specialty coffee beans Guatemala El Socorro, 200 g
Guatemala
Single-origin
Medium light
Product is no longer in production.

Specialty coffee beans Guatemala El Socorro, 200 g
In Stock
Specifications
Coffee kind
Single-origin
Manufacturer
Coffee Friend
Coffee origin region
Guatemala
Roasting level
Medium light
Country of Origin
Lithuania
Arabica variety
Geisha / Gesha
Coffee beans type
100% Arabica, Specialty coffee
About product
The winner of the prestigious "Cup of Excellence" award, this fruity, berryish, sweet coffee is sure to be appreciated by true coffee connoisseurs! The luxurious arabica Geisha variety will indulge your palate and excite your imagination: first, you'll taste the dominant notes of cherries, red currants and pomegranates, then the flavours will morph, gradually revealing the sweetness of peaches, pears and apricot jam. Once a cup of this gourmet drink is finished, its vivid memory will linger on your palate for quite some time, leaving a pleasantly sweet and fruity aftertaste.
The history of the El Socorro farm dates back to the 19th century, when Antonio López Colom started working there. Many years later, one of Antonio's descendants, Maria Colom, together with her husband Mario De La Cerda, purchased a large farm composed of three separate properties: El Socorro, San Guayabá and Rio Arriba. Today, their son and grandson continue the couple's work on the very same land. Now into its fourth generation, this family farm is located at a particularly high altitude, which is what endows the coffee that grows there with its exceptional quality and award-winning taste.
For over 20 years, the "Cup of Excellence" (COE) competition has been pioneering integrity and transparency in the coffee industry. The level of scrutiny that COE coffees undergo is truly unmatched anywhere else. This means that the quality of these coffees also has no equals.
The supply of "Guatemala El Socorro" is extremely low, so it belongs to the Limited Edition line.
Due to its exceptional quality and taste, this coffee is marked as Specialty. According to the SCA grading system, it scores 90.1 points out of 100.
COUNTRY: Guatemala
REGION: Palencia
FARM: El Socorro
ALTITUDE: 1850 m
VARIETY: Geisha
PROCESS: Washed
ROAST LEVEL: Light medium
TASTE PALETTE: Cherry, Red currant, Apricot, Peach, Pear
Recommended brewing methods: all manual coffee brewing methods (V60, Chemex, etc.).
Ingredients: roasted coffee beans.
Storage conditions: keep sealed in a dark, dry and cool place.
Taste guide
Apricot
Cherry
Currant
Peach
Pear
Coffee passport
Coffee origin region
Guatemala
Coffee kind
Single-origin
Roasting level
Medium light
Frequently Asked Questions
Ask your question about the product