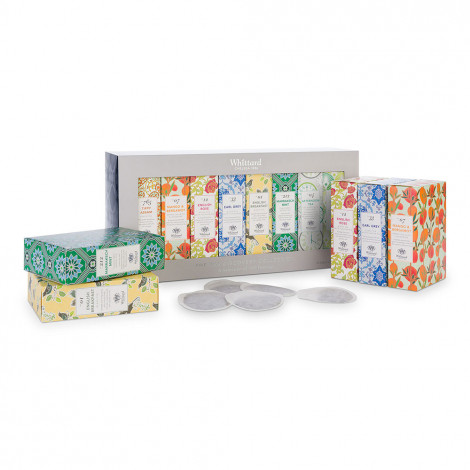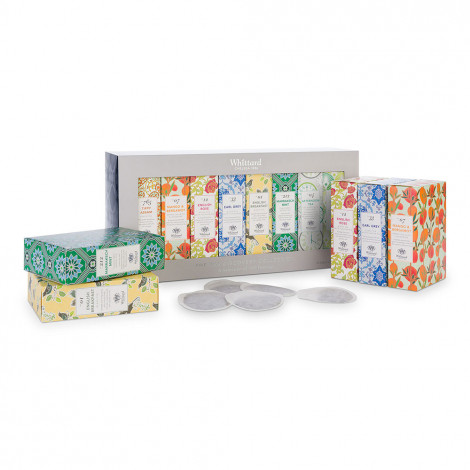 Tea set Whittard of Chelsea "The Tea Discovery Collection New", 160 pcs.
Product is no longer in production.

Tea set Whittard of Chelsea "The Tea Discovery Collection New", 160 pcs.
In Stock
Specifications
Manufacturer
Whittard of Chelsea
Country of Origin
United Kingdom
About product
Are you looking to add some variety to your afternoon tea breaks? Or are you perhaps searching for an original gift? This tea set, produced by the famous British tea manufacturer Whittard of Chelsea, features as many as 8 different tea varieties: from Chinese green tea and Indian Assam black tea to perfectly balanced blends created in England.
Each box, adorned with a gorgeous vintage pattern, holds 20 eco teabags made from paper.
• Teas featured: Jasmine, Afternoon Tea, Marrakech Mint, English Breakfast, Earl Grey, English Rose, Mango & Bergamot and Tippy Assam
• Tea types included: 4 x black, 3 x green and 1 x black, oolong and green blend
• Number of servings (using 1 teabag per cup): 8 x 20 traditional teabags = 20 cups of each tea – that's a grand total of 160 cuppas!
Ingredients:
Afternoon Tea: 70% black tea, 29% green tea, bergamot flavouring
Marrakech Mint: 80% green tea, 20% peppermint
English Rose: 95% black tea, flavouring substances
Tippy Assam: black tea
Jasmine: green tea
English Breakfast: black tea
Earl Grey: black tea, flavouring substances
Mango & Bergamot: green tea, mango flavouring, lulo flavouring, 1.5% petals (cornflower, sunflower and rose), bergamot flavouring
Suitable for vegetarians and vegans.
Sustainable packaging: carton: recyclable; plastic-free teabags: compostable, foil packets (NatureFlex): compostable.
Storage conditions: store in a cool, dry place.
Frequently Asked Questions
Ask your question about the product