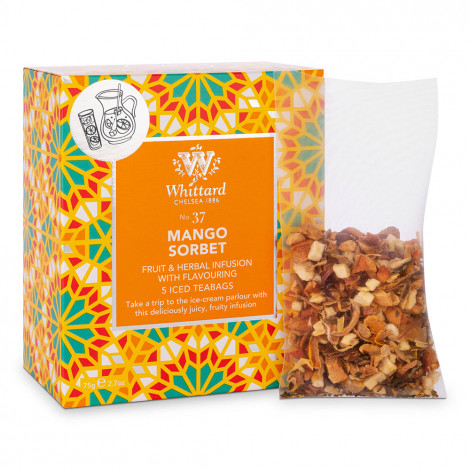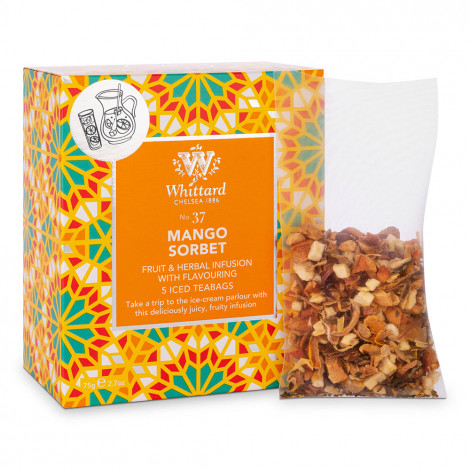 Tea Whittard of Chelsea "Mango Sorbet", 75 g
Product is no longer in production.

Tea Whittard of Chelsea "Mango Sorbet", 75 g
In Stock
Specifications
Manufacturer
Whittard of Chelsea
Country of Origin
United Kingdom
About product
A scrumptious scoop of summer, "Mango Sorbet" is a delicious medley of luscious mango cubes and sweet apple pieces. The bright notes of hibiscus and ginger endow it with a refreshing zing. For your convenience, this juicy infusion is packed in 5 iced teabags, 75 grams each — they allow you to prepare more iced tea at once, enough to treat all the members of your family or your group of friends to a refreshing cuppa.
How to make iced tea:
1. Place 1 teabag in a 1-litre jug.
2. Add 500 ml of freshly boiled water and leave for 15 minutes.
3. Load the jug with ice.
4. Garnish with fruit and sprigs of mint if desired.
Ingredients: 38% apple, 23% white hibiscus, ginger, sweet blackberry leaves, 5% mango (mango, sugar), orange peel, natural flavouring substances, marigold petals, safflowers.
Suitable for vegetarians and vegans.
Sustainable packaging: carton: recyclable; plastic-free teabags: compostable; packets (NatureFlex): compostable.
Storage conditions: store in a cool, dry place.
Frequently Asked Questions
Ask your question about the product