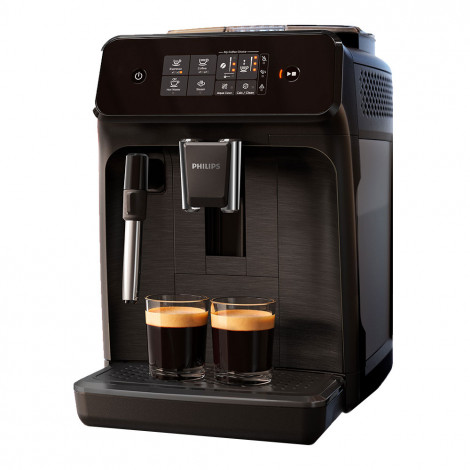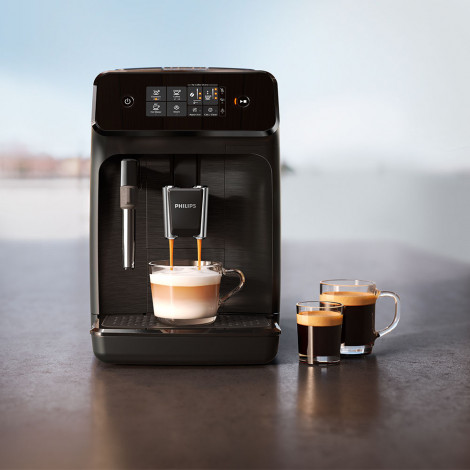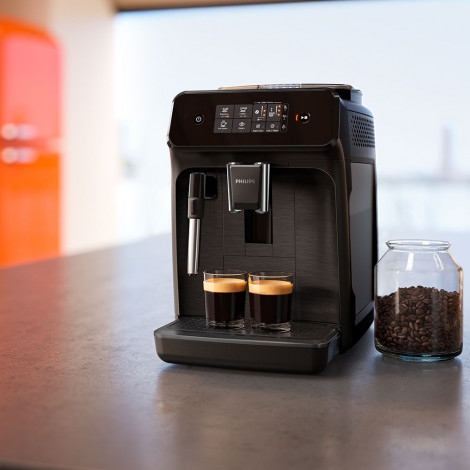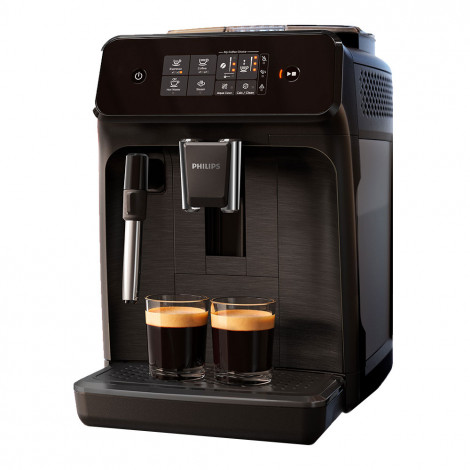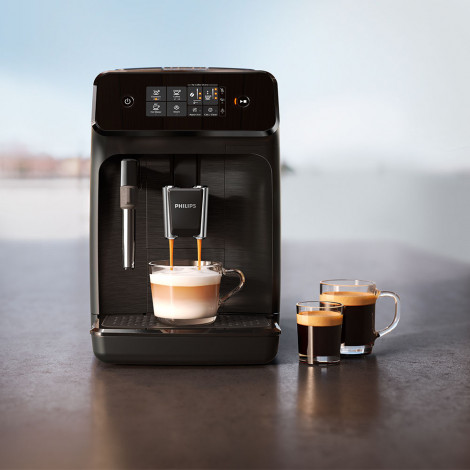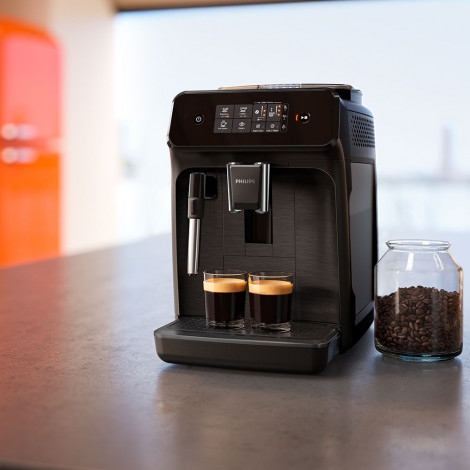 Coffee machine Philips "Series 1200 EP1220/00"
By buying this coffee machine, you become eligible for the VIP membership program and discount vouchers with a total value of 50 €.
Become a member of COFFEE FRIEND'S VIP program and receive up to 5 vouchers of 10 € each for your upcoming purchases at COFFEE FRIEND'S online store. More information will be provided via your personal e-mail address once you've completed your purchase. The offer applies exclusively to natural persons.

Coffee machine Philips "Series 1200 EP1220/00"
In Stock
Specifications
Coffee machine uses
Coffee beans, Ground coffee
Milk system type
Manual frother (non-professional)
Does coffee machine prepare hot water?
Yes
Height-adjustable coffee spout
150 mm
Country of Origin
European Union
Coffee machine's screen
Black/White
Control type
Touch buttons
Coffee grounds capacity (portions)
12
Number of black coffees prepared at once
2
Coffee
Black coffee, Espresso
Package contains
(*The manufacturer reserves the right to change the items included in the set without prior notice*), Brew group grease, Ground coffee dosing spoon, Water hardness test strip
Coffee Drinks
Black coffee
Espresso
About product
Two delicious cups of coffee from freshly ground beans prepared at once – this can become a reality with coffee machine Philips "Series 1200 EP1220/00".
An intuitive touch display will make it very easy to control your coffee machine. Coffee drinks are showcased by icons and can be selected from the coffee machine's display. Thanks to "My Coffee Choice" function, you can adjust the strength and quantity of each beverage.
CERAMIC COFFEE GRINDERS
100% ceramic Philips grinders work precisely so you can enjoy fresh and aromatic coffee everyday. You will be able to choose the grinding level from 12 grinding settings: from ultra-fine to coarse grind. These durable grinders will last for a long time, and will grind beans for at least 20 000 cups of coffee.
CLASSIC MILK FROTHER
The milk frother allows you to prepare silky smooth milk froth, which is an integral part of a good cappuccino or latte macchiato. The maintenance of this milk frother is extremely simple: as it is simply assembled in two parts, it is easy to separate and clean them.
SIMPLE MAINTENANCE
The brewing unit is considered to be one of the most important parts of the automatic coffee machine responsible for beverage quality, therefore it should be cleaned regularly. In order to avoid inconveniences, brewing unit is easily removable by opening the door on the side of the coffee machine. Rinse the brewing unit regularly with clean running water.
This coffee machine uses the patented Philips "AquaClean" water filter to protect the coffee preparation system from limescale. By changing this filter regularly, at the coffee machine's request, you can prepare up to 5000 cups of coffee until the next required descaling program.
Frequently Asked Questions
Ask your question about the product