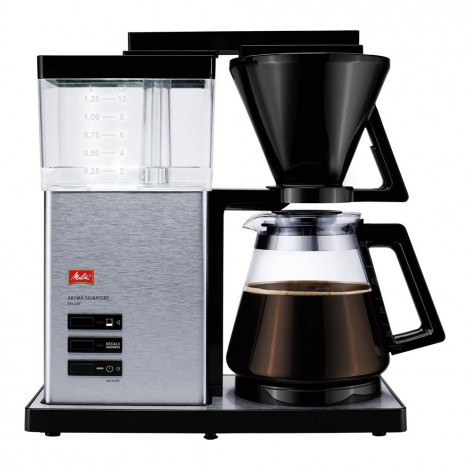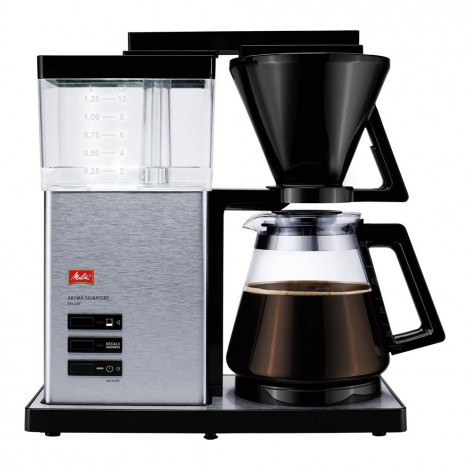 Filter coffee machine Melitta "Aroma Signature DeLuxe"

Filter coffee machine Melitta "Aroma Signature DeLuxe"
In Stock
Specifications
Type
Filter coffee makers
Coffee machine uses
Ground coffee
Extra features
Integrated descaling indicator, Keep warm function, Meets SCA/ECBC requirements
Country of Origin
Germany
About product
Filter coffee maker Melitta "Aroma Signature" meets the highest quality standards required for filter coffee preparation. This has been proved by the "Golden Bean" Award from the ECBC (European Coffee Brewing Centre). This coffee maker not only prepares the perfect-tasting filter coffee, but also looks very stylish: the stainless steel details give the impression of the exceptional reliability.
2 HEATING ELEMENTS AND PROGRAMMABLE TIME FOR WARM KEEPING

Coffee maker has two integrated heating elements: for heating the water and for keeping the warm of coffee during the preparation process and afterwards. Programm the time for keeping the warmth as long as for 30, 60 or 90 minutes. When coffee maker is not used anymore, it automatically turns off after 40 min.
PERFECT COFFEE QUALITY EVEN WITH SMALL QUANTITIES

Integreated Aroma Premium technology ensures the perfect quality of coffee preparation (1800W power is used for the heating and brewing – the brewing time is shortened, while the taste of coffee is perfectly revealed). Additional Aroma Control function allows to keep the good taste even when preparing the small quantity of coffee – by using this function the brewing time automatically is extended.
"COFFEE IS READY" SIGNAL

Integrated signal, indicating about the end of coffee preparation, makes it even more easy to use (the volume of signal can be adjusted or even turned off).
ILLUMINATED WATER TANK

Water tank is extremely comfortable to use due to the clearly marked numbers of portions. Thanks to the integrated special illumination the water tank is illuminated as water is poured in and during the whole brewing process.
INTEGRATED PROGRAMM FOR DESCALING

Filter coffee maker has integrated function for setting water hardness. According to the set water hardness the special symbol appears, inidicating the need for the descaling programm, so that you can start it.
EASY DAILY MAINTENANCE

The filter holder is easily removable and dishwasher safe.

Frequently Asked Questions
Ask your question about the product