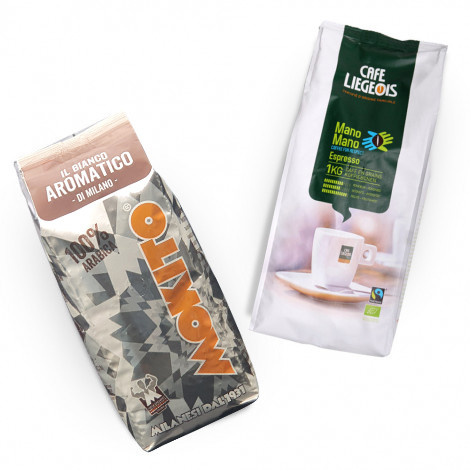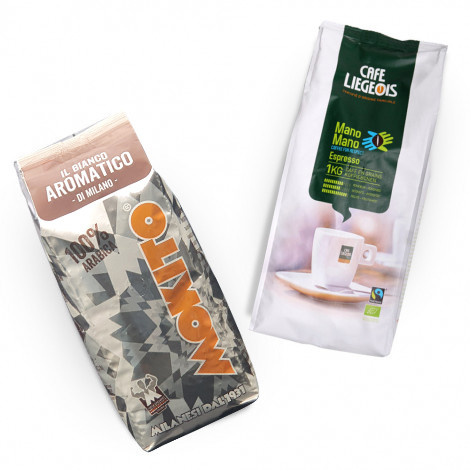 Coffee bean set Mano Mano + Aromatico
In Stock
Delivery takes 3 – 5 days * 85% of orders are delivered the next day

Coffee bean set Mano Mano + Aromatico
In Stock
Specifications
Manufacturer
Charles Liégeois
About product
Coffee beans Café Liégeois "Mano Mano", 1 kg
Very fresh aroma with light bitterness of spring flowers, sourness of citrus fruits and wild apples. The taste is quite warm with a hint of cacao with apple sourness.
No added flavours.
Coffee beans Mokito "Aromatico", 1 kg
Mokito "Aromatico" is a top quality coffee blend made from 100% arabica beans. This coffee blend is perfect for preparing espresso coffee.
RICH TASTE OF ESPRESSO
This blend is designed to prepare full-bodied espresso with a creamy crema on top and intense aroma. In this blend you will taste the best arabica beans, which have been specially selected and roasted to create an exceptional taste.
You will notice citrusy freshness in the aroma when enjoying a cup of Mokito "Aromatico" coffee. Taste opens up with grapefruit notes, which develop into cacao aftertaste with hints of light bitterness.
No added flavours.
Frequently Asked Questions
Ask your question about the product