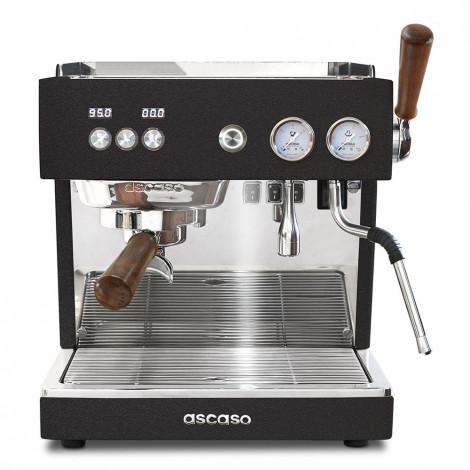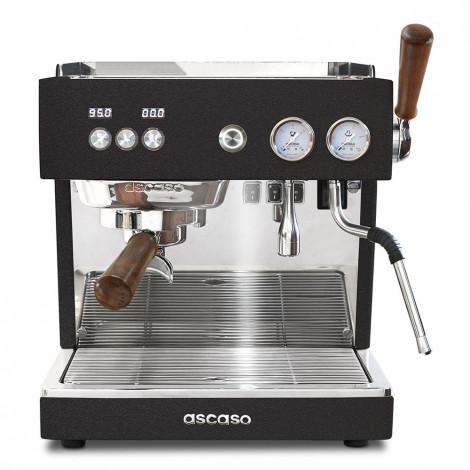 Coffee machine Ascaso Baby T Zero Textured Black
Become a member of COFFEE FRIEND'S VIP program and receive up to 5 vouchers of 10 € each for your upcoming purchases at COFFEE FRIEND'S online store. More information will be provided via your personal e-mail address once you've completed your purchase. The offer applies exclusively to natural persons.
In stock at our central warehouse (available for online purchase).
Delivery takes 4 – 8 weeks * 85% of orders are delivered the next day

Coffee machine Ascaso Baby T Zero Textured Black
In Stock
Specifications
Coffee machine uses
Ground coffee
Milk system type
Manual frother (non-professional)
Does coffee machine prepare hot water?
Yes
PID temperature controller
Yes
About Ascaso Baby T Zero Textured Black
This is a professional espresso machine that's small enough to be placed just about anywhere!
"T TECHNOLOGY© BY ASCASO"
The new Ascaso "Baby T" features the "T Technology©" inside it: it's a multi-group (separate) technology with full PID control, offering greater thermal stability, a high level of energy efficiency, as well as clean, fresh water used when brewing every single cup. High steam production is guaranteed too.
CLEAN FLAVOUR
Thanks to the use of stainless steel ensuring minimal metal migration to the beverage, you'll always get the cleanest cup of coffee. The machine complies with all the relevant European regulations.
ENERGY-EFFICIENT
Compared to traditional coffee machines, Ascaso results in energy savings that are up to 50% larger on average. When compared to other multi-boiler appliances, this figure tends to be 25% larger.
MAIN FEATURES
–Multi-group technology (on/off by group)
–Professional thermodynamic groups
–Independent steam boiler: stainless steel AISI 316, extremely sturdy, large capacity
–External PID control (+0.1 ºC) for each group and steam boiler
–External timer for each group
–Digital display in each group
–Multiple functions, total control
–Thermal stability (+-1.5 ºC)
–Energy-efficient
–Powerful steamer: 12-mm anti-limescale tube made from stainless steel
–Walnut wood accessories
–Vibratory pump
–Water tank (2 l)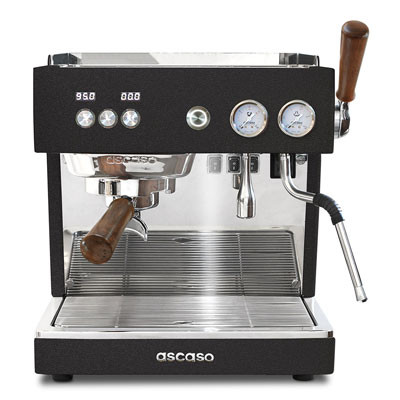 Frequently Asked Questions
Ask your question about the product
Ascaso Baby T Zero Textured Black reviews