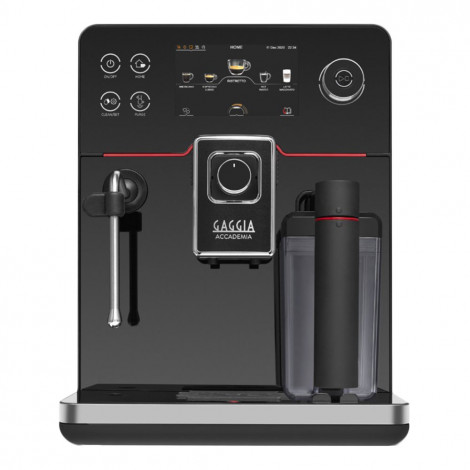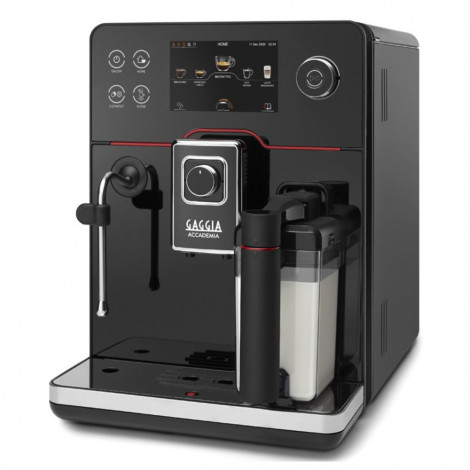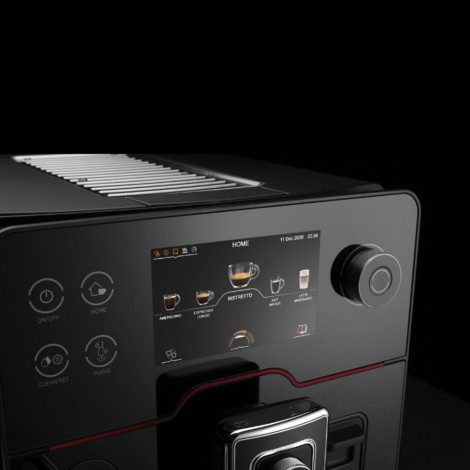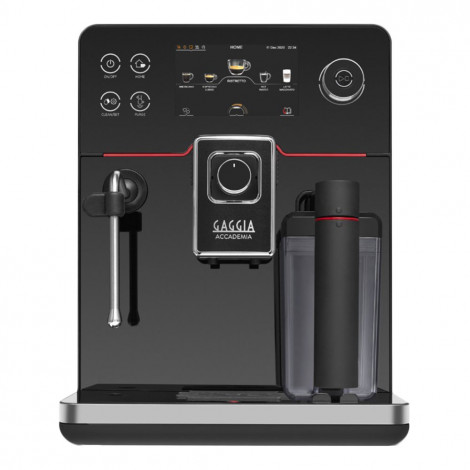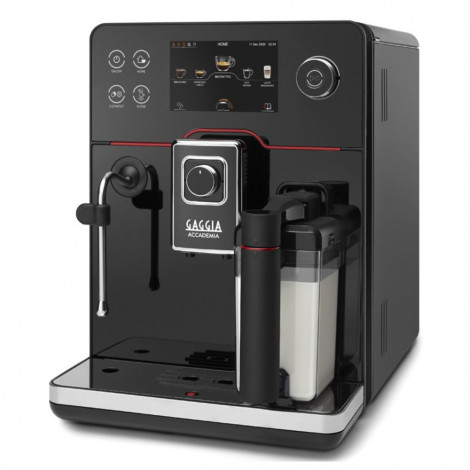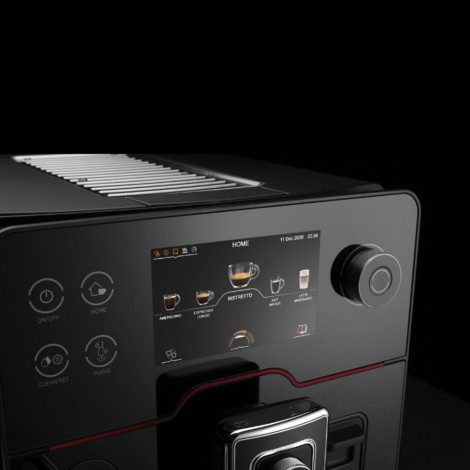 Coffee machine Gaggia Accademia RI9781/01
Become a member of COFFEE FRIEND'S VIP program and receive up to 5 vouchers of 10 € each for your upcoming purchases at COFFEE FRIEND'S online store. More information will be provided via your personal e-mail address once you've completed your purchase. The offer applies exclusively to natural persons.
In stock at our central warehouse (available for online purchase).
Delivery takes 1 – 2 weeks * 85% of orders are delivered the next day

Coffee machine Gaggia Accademia RI9781/01
In Stock
Specifications
Coffee machine uses
Coffee beans, Ground coffee
Milk system type
Integrated milk tank
Does coffee machine prepare hot water?
Yes
Does coffee machine prepare hot milk?
Yes
Height-adjustable coffee spout
15.5 cm
Water pump pressure
15 BAR
Number of bean containers
1
Coffee machine's screen
Colourful
Control type
Touch screen
Coffee grounds capacity (portions)
14
Number of black coffees prepared at once
2
Number of coffee with milk recipes prepared at once
1
Adjustable grinding level
8
Portion size
Programmable
Adjustable milk foam volume
Yes
Coffee temperature (levels)
3
Milk system cleaning program
Yes
Other
Hot milk, Milk foam
Coffee
Americano, Black coffee, Café au lait, Caffè latte, Cappuccino, Cortado, Espreso Lungo, Espresso, Flat white, Latte Macchiato, Melange, Ristretto
Package contains
(*The manufacturer reserves the right to change the items included in the set without prior notice*), Brew group grease, Cleaning brush, Ground coffee dosing spoon, Water filter, Water hardness test strip
Video
Gaggia Accademia - The Movie
Gaggia Accademia - The Movie
Gaggia Accademia - Up to 19 Specialties
Gaggia Accademia - Milk Foam Setting
Gaggia Accademia - Professional Steam Wand
Gaggia Accademia - 4 profiles
Gaggia Accademia - Cup Warmer Activation
Gaggia Accademia - Machine settings
Gaggia Accademia - Cleaning Menu
Coffee Drinks
Americano
Black coffee
Cappuccino
Espresso
Flat white
Latte Macchiato
Ristretto
Melange
Cortado
Café au lait
Caffè latte
Espreso Lungo
About product
Discover new "Gaggia Accademia", created for a bespoke home barista experience.
BESPOKE EXPERIENCE: BE THE HOME BARISTA OF THE FUTURE
Wide variety: up to 19 beverages at your fingertips
From espresso to cappuccino, from flat white to latte macchiato, and much, much more—choose from 19 traditional and country-specific pre-set recipes.
A fully tailored experience
Customise every detail of your beverage: pre-brewing duration, aroma intensity, temperature, portion size, amount of milk foam and coffee.
Modify while brewing
Modify the quantity of your beverage when it's already brewing.
4 profiles
Create your own profile with the personalised beverages you prefer. You can even rename them as you like!
Efficient cup warmer
Set the timer for up to 4 times a day, for all days, to activate the cup warmer and get your cups ready whenever you want.
POWERFUL USER INTERACTION: A MULTISENSORY APPROACH YOU'VE NEVER EXPERIENCED BEFORE
To Feel
Multisensory interaction
Your coffee is now literally at your fingertips! Swipe and select using the wide touch screen with improved sensitivity, navigate with the help of rotary knobs with their premium-feel texture that improves the grip, and click on the backlit buttons that identify the main functionalities in the clearest possible way.
Masterful design
Elegant, efficient and reliable. Designed and made in Italy, "Gaggia Accademia" boasts materials of superior quality, such as stainless steel, Zama metal and black mirror glass.
To See
Wide display
See everything all at once on the wide full-colour 5″ display with 3D icons and backlit buttons to ensure maximum visibility and ease of use.
Guided experience
Discover an entire set of quick and clear guides with all the information you need about the beverages, cleaning procedures and machine settings.
QR code
Scan the QR code using your mobile phone to get direct access to the user manual in your preferred language.
To Handle
Professional steam wand
Produce the ideal microfoam with the texture suited perfectly for latte art using the professional stainless-steel steam wand. Simply click to activate the steam function and relive authentic barista rituals at home. Thanks to the shape of the wand, you can use different kinds of milk jugs and whip up impeccable milk foam every time. The steam wand also dispenses hot water for teas and infusions.
Adjustable brewing head
Adjust the height of the brewing head to suit the glass or cup you're using: from 110 mm to a maximum of 155 mm.
Purge function
Activate the purge function by clicking the dedicated button to thoroughly clean the steam wand and ensure unmatched performance at all times.
MASTERFUL ITALIAN DESIGN
Backlit details
The signature red line and backlit control panel details are here to guide you in style.
Metal brewing head
Adjustable brewing head in premium Zama metal.
Milk carafe
Compact, ergonomic and easy to use.
Wide display
Full-colour 5-inch touch display with 3D icons and backlit buttons.
Stainless-steel housing
The robust painted steel housing enables this coffee machine to serve you for years to come.
Cup warmer
Moulded from stainless steel, the convenient cup warmer ensures the perfect placement and heating for every cup.
Rotary knobs
The stainless-steel knobs boast a special texture that ensures the optimal grip.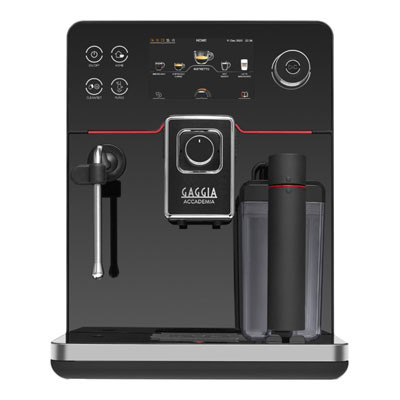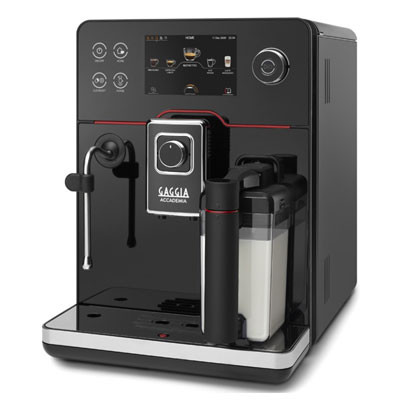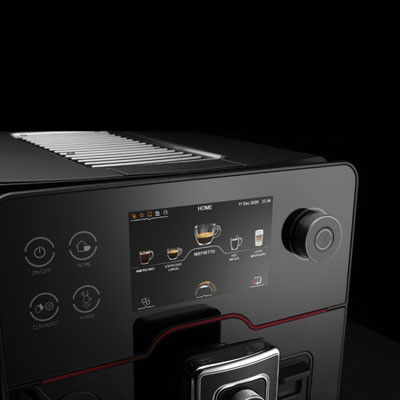 Frequently Asked Questions
Ask your question about the product