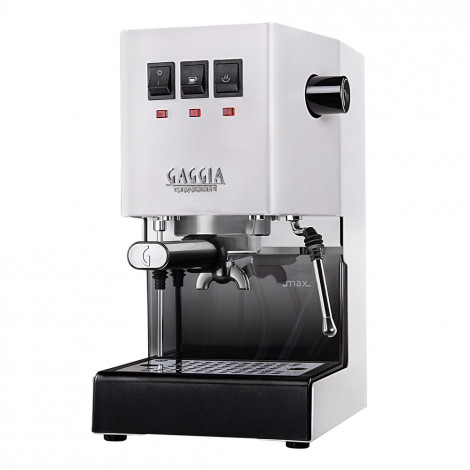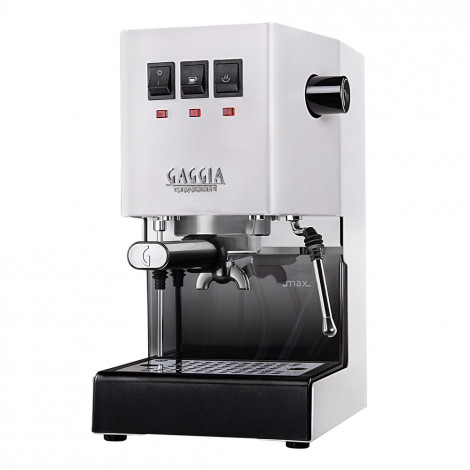 Coffee machine Gaggia "New Classic Polar White"
By buying this coffee machine, you become eligible for the VIP membership program and discount vouchers with a total value of 50 €.
Become a member of COFFEE FRIEND'S VIP program and receive up to 5 vouchers of 10 € each for your upcoming purchases at COFFEE FRIEND'S online store. More information will be provided via your personal e-mail address once you've completed your purchase. The offer applies exclusively to natural persons.

Coffee machine Gaggia "New Classic Polar White"
In Stock
Specifications
Coffee machine uses
Coffee pods, Ground coffee
Milk system type
Manual frother (professional)
Does coffee machine prepare hot water?
Yes
Diameter of filter handle basket
58 mm
Water pump pressure
15 BAR
Coffee machine's screen
None
Number of black coffees prepared at once
2
Package contains
(*The manufacturer reserves the right to change the items included in the set without prior notice*), Ground coffee dosing spoon, Tamper
Coffee Drinks
Espresso
About product
Unleash your inner barista at home! Gaggia's "New Classic" holds 80 years of history, tradition and experience. As Gaggia themselves state, "We dedicate it to all espresso lovers who want to relive the barista's rituals at home day in and day out. These rituals require attention to detail, precision and practice, of course—and our traditional group, solenoid valve, filter holder and professional steam wand allow you to achieve all of that. Stylishly designed and made from scratch in Italy."
PROFESSIONAL CHROMED BRASS GROUP AND FILTER HOLDER
The heavy chromed brass group and filter holder ensure a consistent, perfectly stable temperature throughout the entire brewing process.
SOLENOID VALVE
The three-way solenoid valve relieves pressure in the filter holder immediately after pulling a shot. Water is emptied from the filter holder via the open valve and transferred to the drip tray. This leaves coffee pucks relatively dry, making the holder easy to clean.
POWERFUL PUMP
The 15-bar pump pushes hot water through the ground coffee at high pressure to ensure excellent espresso topped with a layer of delicious crema.
PROFESSIONAL STEAM WAND WITH TWO STEAM OUTLETS
Take advantage of the perfect way to froth milk, and enjoy creamy cappuccinos at home, just as yummy as the ones you'd be served at an Italian café.
INTUITIVE USER INTERFACE
Thanks to traditional buttons and indicator lights, you'll be in total control of all of the appliance's functions.
EXQUISITE DESIGN DETAILS
The new design is meant to further enrich your home barista experience: the improved shape makes the water level visible, the drip tray results in more stability during the brewing process, while the iconic filter holder with Gaggia's signature "G" makes your coffee rituals more aesthetically pleasing than ever before.
THREE FILTERS
The coffee machine comes with three filters: there's one "Crema Perfetta" filter for 1 or 2 portions, as well as two traditional filters.
CUP HOLDER
This practical feature allows you to store your espresso cups and glasses on top of your espresso machine. Always have them within reach and store them conveniently without taking up too much space!
MADE IN ITALY
Made in Italy, this premium appliance guarantees the highest quality and tastiest espressos year after year.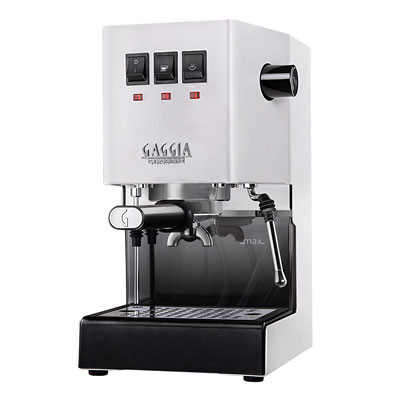 Frequently Asked Questions
Ask your question about the product