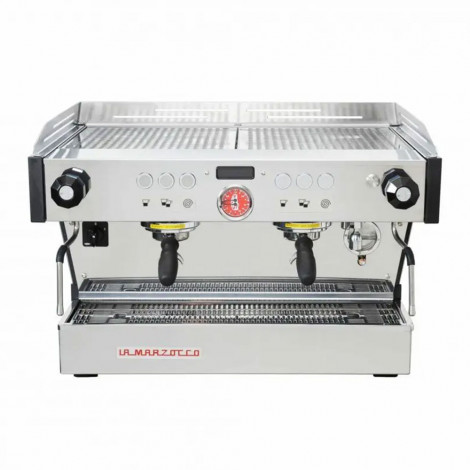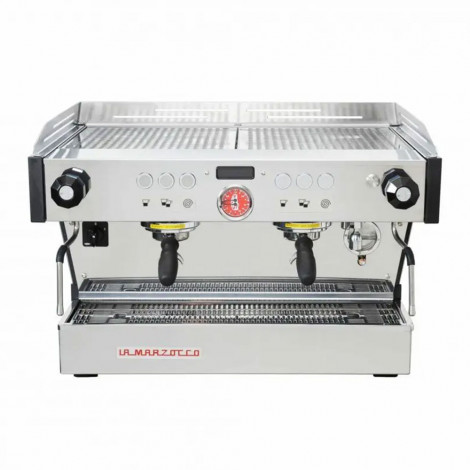 Coffee machine La Marzocco Linea PB, 2 groups
Once the parcel is ready for delivery, the gift voucher will be sent to the e-mail address provided by you (this may take a few days after payment). Promotions and discounts do not stack. The gift voucher cannot be used when buying a coffee machine. The offer is valid for natural persons only. If the total cost of the items in your cart is below 49 € once the gift voucher has been applied, the order is subject to a delivery fee. Promotion is valid until 25.04.2023.
By buying this coffee machine, you become eligible for the VIP membership program and discount vouchers with a total value of 50 €.
Become a member of COFFEE FRIEND'S VIP program and receive up to 5 vouchers of 10 € each for your upcoming purchases at COFFEE FRIEND'S online store. More information will be provided via your personal e-mail address once you've completed your purchase. The offer applies exclusively to natural persons.

Coffee machine La Marzocco Linea PB, 2 groups
In Stock
Specifications
Coffee machine uses
Ground coffee
Milk system type
Manual frother (professional)
Does coffee machine prepare hot water?
Yes
PID temperature controller
Yes
About La Marzocco Linea PB 2 group
"Linea PB", designed by and named in honour of Piero Bambi, introduces a whole new level of performance, reliability and craftsmanship. The machine features the iconic La Marzocco polished stainless-steel body, updated with simplified lines and a lower profile. It's equipped with an exclusive, user-friendly interface software that gives the barista direct control over the boiler temperature, brewing volume, hot water tap dose, auto-backflush, as well as other features. The group cap boasts an integrated flow-meter to ensure that water never leaves the saturated area of the coffee boiler, hence reducing temperature instability during brewing. "Linea PB" is the first La Marzocco machine equipped with new-generation proprietary electronics and an iconic three-button interface.
Available configurations: MP | AV | ABR
Dual boilers
Separate boilers optimise brewing and steam production.
Dual PID system (coffee and steam)
This system allows you to electronically control the temperature in both coffee and steam boilers.
Insulated boilers
They're easy to access and reduce energy consumption while contributing to temperature stability.
Saturated groups
Saturated groups ensure unsurpassed thermal stability, shot after shot.
"Pro App"-compatible
The electronic board enables connectivity with the "La Marzocco Pro" app.
Digital display
Intuitive programming makes it easy to adjust machine parameters.
½ turn steam valve
The steam valve opens fully in half a turn, requiring less movement for the barista to steam milk.
Eco mode
The machine can be programmed to enter the stand-by mode, improving energy efficiency.
USB
This feature enables you to update firmware.
Water sensor
This sensor measures the conductivity and hardness of water as it enters the machine.
"Piero" group caps (AV, ABR)
Re-engineered internal water path and flow-meter positioning increase temperature stability.
Conical paddle (MP only)
It ensures progressive control of water flow and pressure before applying full pressure.
Programmable doses (AV, ABR)
Auto-volumetrics ensure repeatability and consistency in high-volume settings.
Integrated scales (ABR only)
Precision scales integrated in the drip tray provide an improved level of consistency.
High legs (special order)
Higher legs make it easier for you to access the bottom of the machine.
Barista lights (special order)
LED lighting allows you to focus fully on your brew.
Personalised colours (special order)
Customisable colours based on the RAL system are available upon request.
Cup warmer (special order)
Keep your cups heated at all times.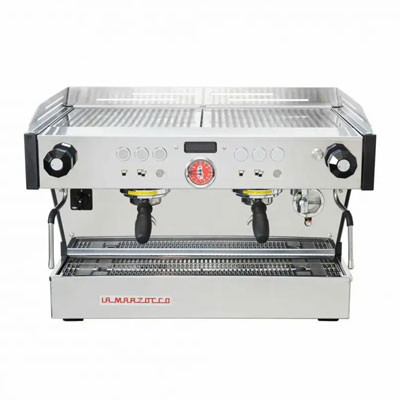 Frequently Asked Questions
Ask your question about the product
La Marzocco Linea PB 2 group reviews