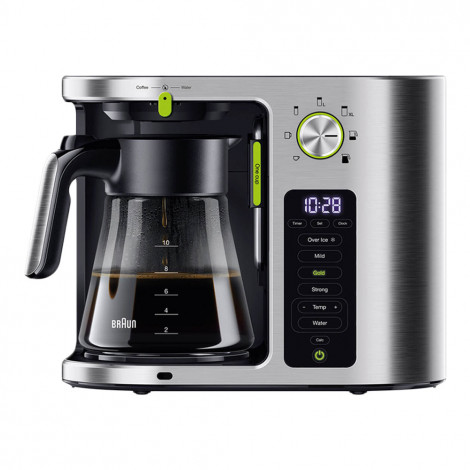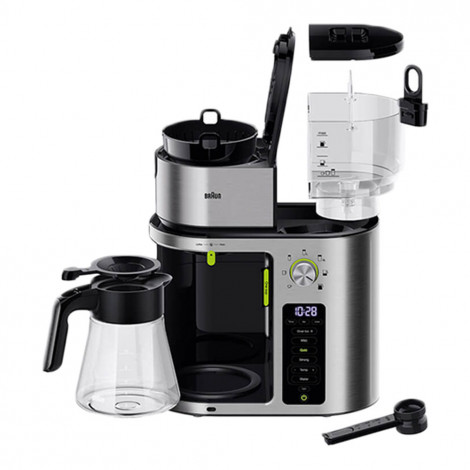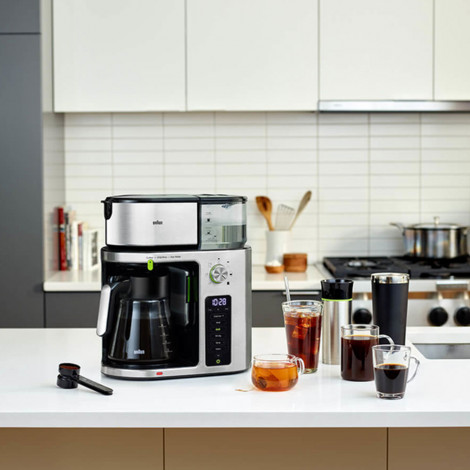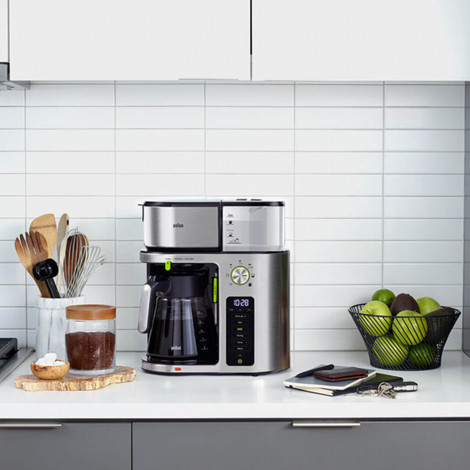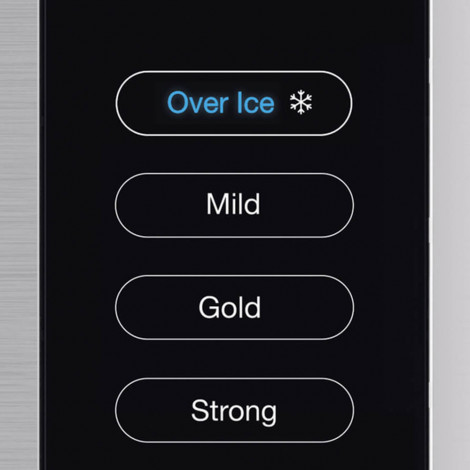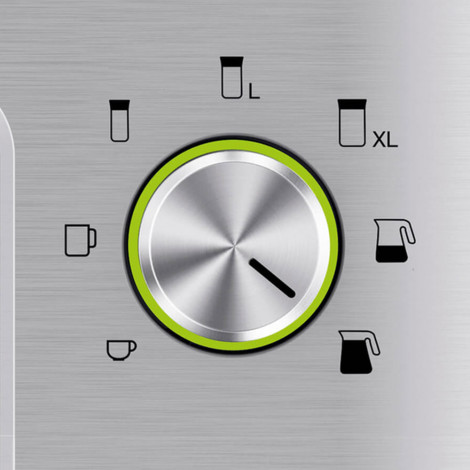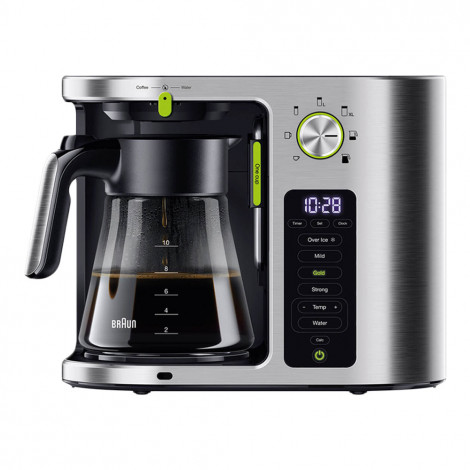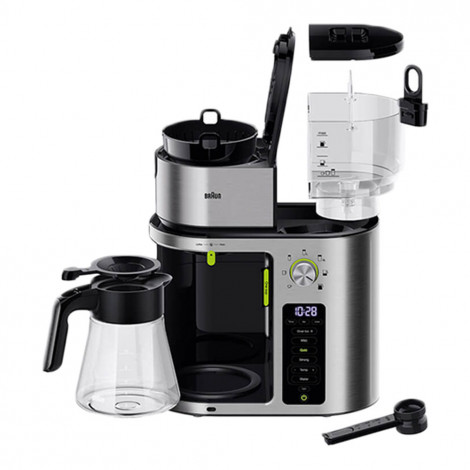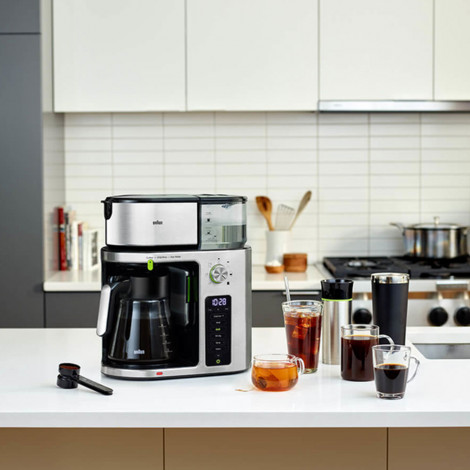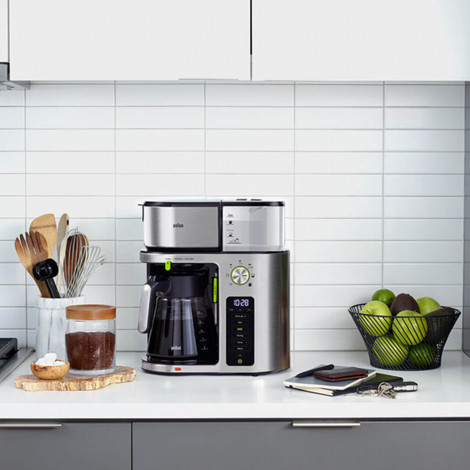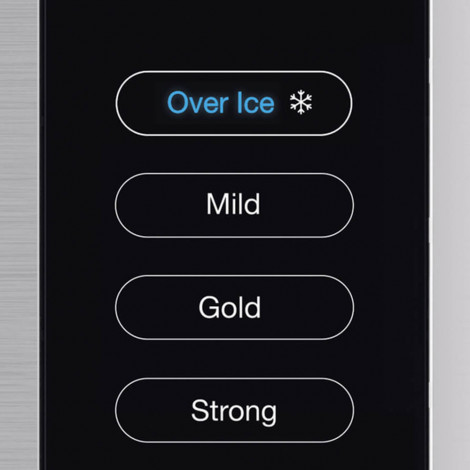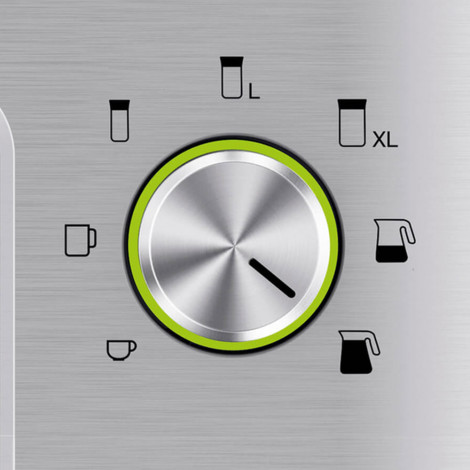 Filter coffee machine Braun "KF9170SI"

Filter coffee machine Braun "KF9170SI"
In Stock
Specifications
Type
Filter coffee makers
Coffee machine uses
Ground coffee
Extra features
Integrated descaling indicator, Keep warm function, Programmable preparation time
Country of Origin
Germany
About product
Filter coffee maker Braun "KF9170SI" with stainless steel design meets the rigorous requirements of the Specialty Coffee Association (SCA) and brews filter coffee of the highest quality. Choose from 7 different brewing sizes and adjust the intensity of the coffee you make. The programmable timer can be programmed to automatically brew your coffee right when you want it. Those who prefer to enjoy their coffee for longer will appreciate the keep warm function: coffee can stay hot for up to 2 hours. After 2 hours, the coffee machine switches off automatically. Tea lovers were also not forgotten: you will find a separate hot water spout for your tea.
ExactBrew TECHNOLOGY
""ExactBrew"" technology ensures a consistent and optimal coffee brewing process. Each time (depending on the selected brewing type) the system automatically adjusts the appropriate water flow, its speed and water temperature.
BrewChoice Plus SYSTEM
With a touch of a button adjust the taste of your coffee by choosing from different coffee preparation programs: Over Ice, Light, Gold or Bold.
MultiServe Dial SYSTEM
Choose from 7 different beverage sizes by turning the MultiServe dial knob. This coffee maker can prepare coffee in a cup, thermo bottle or a jug (the latter is prepared in less than 8 minutes).
PREPARE COFFEE STRAIGHT INTO YOUR CUP
For maximum convenience coffee maker prepares coffee directly into a cup: it has an integrated cup shelf.
PROGRAMMABLE COFFEE PREPARATION TIME
The programmable timer can be programmed to automatically make your coffee right when you want it.
FRESHNESS INDICATOR
After the coffee-making process is finished, you can keep track of how much time has passed since the coffee was made and whether your coffee is still fresh.
HOT WATER FUNCTION
A separate hot water spout allows you to enjoy delicious tea without the taste of coffee.
EASY MAINTENANCE
The coffee maker will inform you when to remove limescale. All removable coffee maker parts are dishwasher safe.
CERTIFIED BY SCA (SPECIALTY COFFEE ASSOCIATION)
This filter coffee maker is SCA certified: this means that the coffee preparation process meets the strict requirements of this organization and coffee maker prepares the highest quality coffee.
CLASSIC DESIGN
Stainless steel coffee maker with classic design is not only extremely durable, but also looks great in any environment.
Frequently Asked Questions
Ask your question about the product