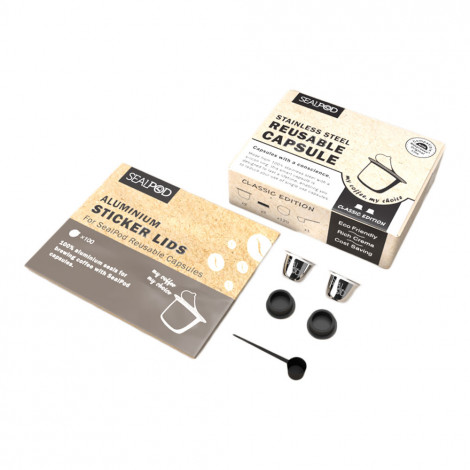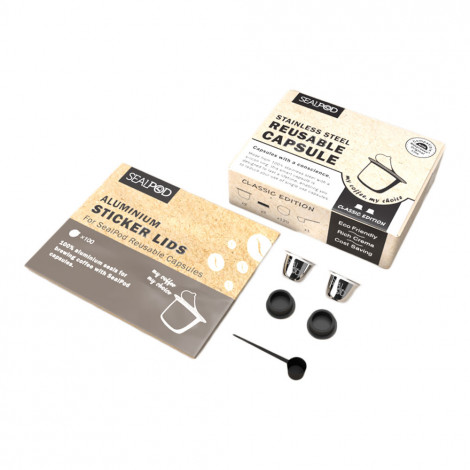 Reusable capsules compatible with Nespresso® Sealpod "Classic Edition"
Delivery takes 3 – 5 days * 85% of orders are delivered the next day
Reusable capsules compatible with Nespresso® Sealpod "Classic Edition"
In Stock
Specifications
Coffee type
Coffee capsules
Capsules suitable for
Nespresso®
About product
Sealpod is the original refillable capsule system. The patented reusable stainless-steel Sealpod capsule works like your regular disposable capsule. This Classic Edition is created for Nespresso capsule coffee machines.
PERFECT FIT
Sealpod capsules are compatible with the majority of Nespresso capsule machines — which makes them the most compatible reusable capsules on the market! With thousands of proven tests, Sealpod assures that these capsules are perfectly safe for your capsule machine. They're shorter than disposable capsules, so you're guaranteed to avoid damaging the blade plate.
KEEP HOT PLASTIC AWAY
Made from stainless steel, Sealpod reusable coffee capsules offer an alternative that doesn't compromise your favourite cup of joy. Reduce your environmental footprint and keep your health in check by brewing less through hot plastic.
SAVE AND TASTE MORE
Sealpod capsules can last a lifetime! They allow you to save money and reduce single-use waste while never skimping on flavour. You'll be able to choose any coffee you wish: from locally roasted varieties to specialty coffees from all over the world. Keep some basic guidelines in mind though: grind your chosen coffee finely, go for medium or dark-roasted beans and fill the capsule with 4.2–4.5 g (or one and a half scoops) of freshly ground coffee.
What you get:
– 2 capsules
– 2 fresh covers, which allow you to pre-fill the capsules and store them for later use for up to 7 days!
– 1 scoop
– 2 spare silicon rings
– 120 stickers
Ideal for:
Those who want to enjoy the coffee of their choice, are living a healthy lifestyle and prefer a planet-friendly cup of coffee at an affordable price. The main advantage compared to the Starter Edition is that you can use two capsules at once. Ideal for great cappuccino!
Compatible with:
Most Nespresso machines, including the majority of De'Longhi and Breville models: Inissia, Pixie, Citiz, Citiz-Milk, Maestria, Gran Maestria, Le Cube, Lattissima, Lattissima+, Lattissima Touch, Essenza, Essenza Krups, Essenza Mini, Creatista, Creatista Plus, Creatista Pro, Creatista Uno, KitchenAid, Wacaco Minipresso NS, Prodigio, Expert and Concept. NOT COMPATIBLE with VertuoLine, Keurig and Dolce Gusto coffee machines.
Frequently Asked Questions
Ask your question about the product