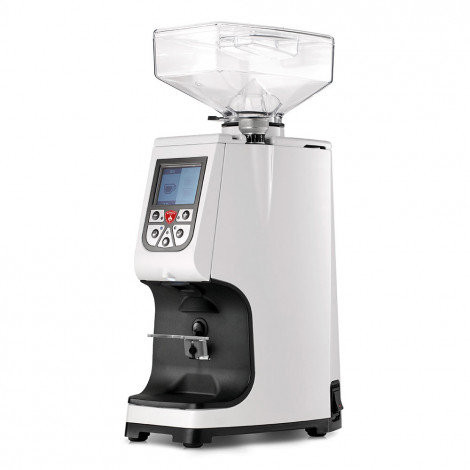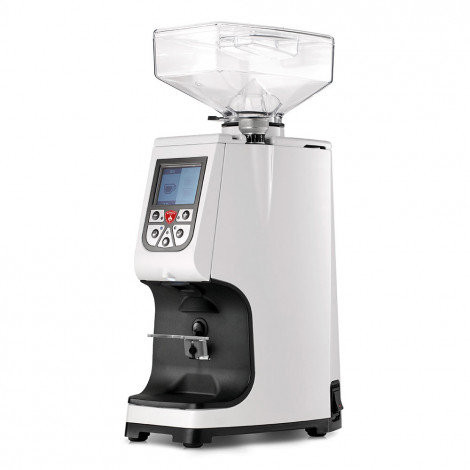 Coffee grinder Eureka Atom Specialty 60 White
Once the parcel is ready for delivery, the gift voucher will be sent to the e-mail address provided by you (this may take a few days after payment). Promotions and discounts do not stack. The gift voucher cannot be used when buying a coffee machine. The offer is valid for natural persons only. If the total cost of the items in your cart is below 49 € once the gift voucher has been applied, the order is subject to a delivery fee. Promotion is valid until 25.04.2023.
Delivery takes 4 – 8 weeks * 85% of orders are delivered the next day

Coffee grinder Eureka Atom Specialty 60 White
In Stock
Specifications
Rotations per minute
1350
Efficiency
1.9-3.1g/s (Espresso) / 2.5-3.7g/s (Brew)
Type of coffee grinder
Electric
Suitable for
Espresso, Filter/Pour-over, Universal
About Eureka Atom Specialty 60 White
"Atom Specialty" is a great solution for small cafés, bars and offices, as well as for demanding home baristas.
MAIN FEATURES:
–"Silent Technology" for quiet operation: reduces grinding noise by 15–20 dB (compared to conventional grinders)
–"Espresso & Brew": special burr design makes the grinder work great both for espresso and all filter varieties
–"High Speed" grind dispersion: combined with a special burr design, the new high-performance engine results in an extremely high level of productivity
–Stepless micrometric regulation system (patented by Eureka)
–ACE (Anti-Clump & Electrostaticity) system conceived to prevent the presence of clumps and eliminate the electrostatic charge of ground coffee
–"High Speed" maintenance of burrs (without losing the current grind setting) and outlet chute
–All-purpose adjustable "Hands-Free" fork
–Five-button "Barista Special" electronics
–Customised high-performance engine
–Die-cast aluminium body
***
"Eureka" has been designing and manufacturing modern and elegant coffee grinders since 1920. Founded in Florence by Aurelio Conti, the company started its activities as a manufacturer of espresso grinders and quickly turned into a symbol of excellence. Nowadays, encouraged by its international and dynamic attitude, "Eureka" aims to become the most innovative player in the coffee grinder industry—the state-of-the-art in grinding techniques for any brewing method.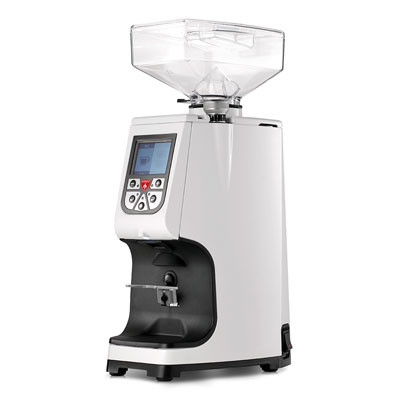 Frequently Asked Questions
Ask your question about the product
Eureka Atom Specialty 60 White reviews