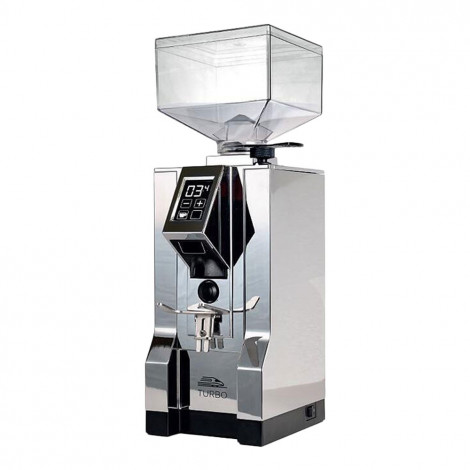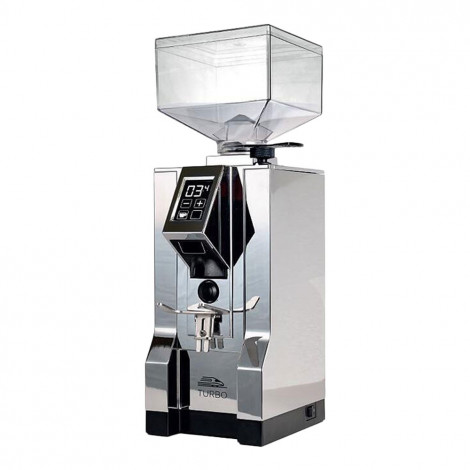 Coffee grinder Eureka "Mignon Turbo"
Delivery takes 3 – 5 days * 85% of orders are delivered the next day

Coffee grinder Eureka "Mignon Turbo"
In Stock
Specifications
Rotations per minute
1630
Type of coffee grinder
Electric
Programmable grind time
Yes
About product
This new high-speed grinder belongs to Eureka's Silent Range. It's been developed to achieve professional performance at home, all thanks to its 65-mm burrs combined with an upgraded engine.
STEPLESS MICROMETRIC ADJUSTMENT SYSTEM
A convenient knob with infinitive references helps find and set the exact required grind point with ease.
SILENT TECHNOLOGY
Thanks to Eureka's Silent Technology, grinding noise is reduced by over 20 dB compared to conventional grinders.
HIGH-SPEED PRODUCTIVITY
Thanks to the powerful engine hidden inside the new "Mignon Turbo", its grind capacity amounts to an impressive 1.8–2.3 g/s for espresso.
ELR (EXTREMELY LOW RETENTION) SYSTEM
Advanced technological solutions ensure extremely low coffee retention.
OTHER FEATURES:
– All-purpose adjustable fork for hands-free operations
– Touch display with 2 programming options, -/+ for grind time adjustment and an "Extra Dose" mode
– Anti-Clump & Electrostaticity (ACE) system
– Microswitch with a Start & Stop function
– Metallic outlet chute
"Eureka" has been designing and manufacturing modern and elegant coffee grinders ever since 1920. Founded in Florence by Aurelio Conti, the company started its activities as a manufacturer of espresso grinders and quickly turned into a symbol of excellence. Nowadays, encouraged by its international, dynamic attitude, "Eureka" seeks to occupy the position of the most innovative company in the coffee grinder industry, providing state-of-the-art grinding technologies for any brewing method.
Frequently Asked Questions
Ask your question about the product