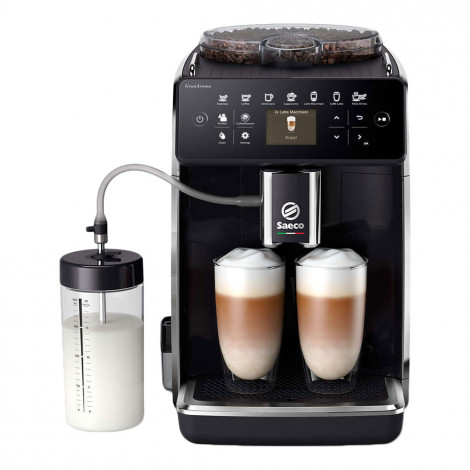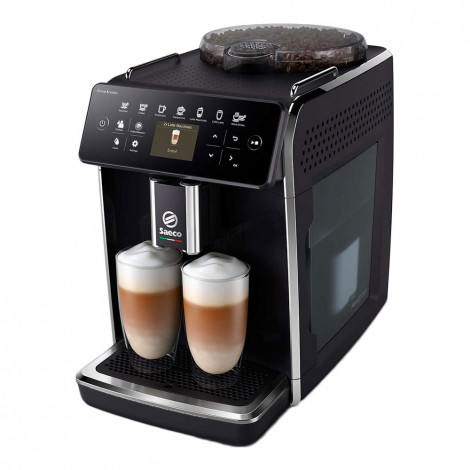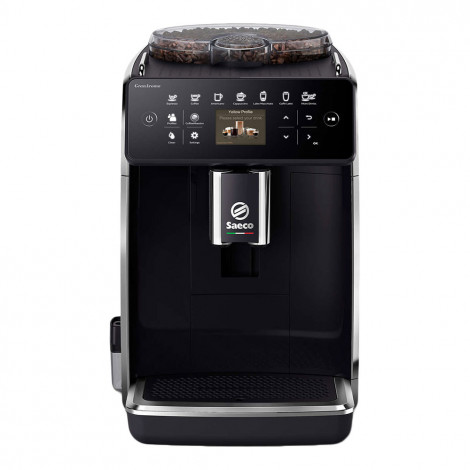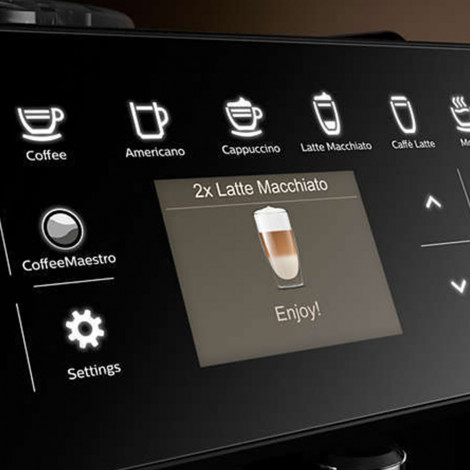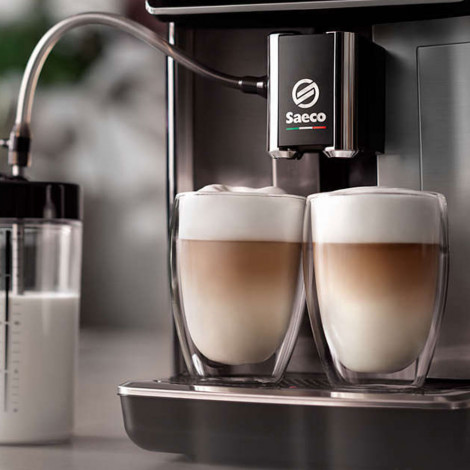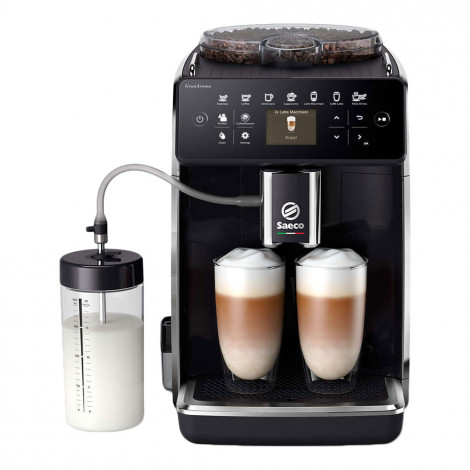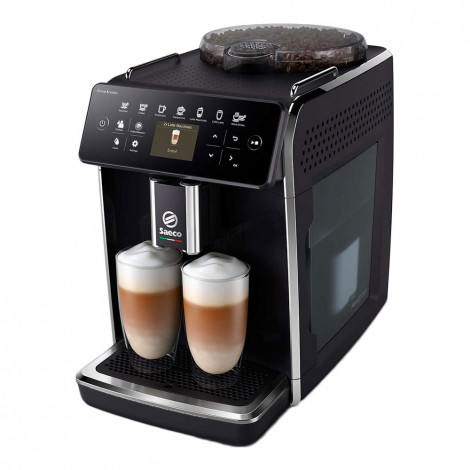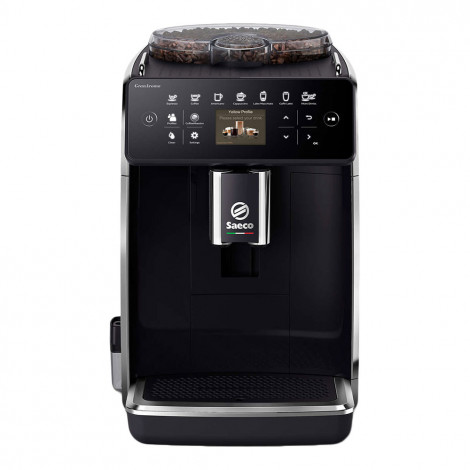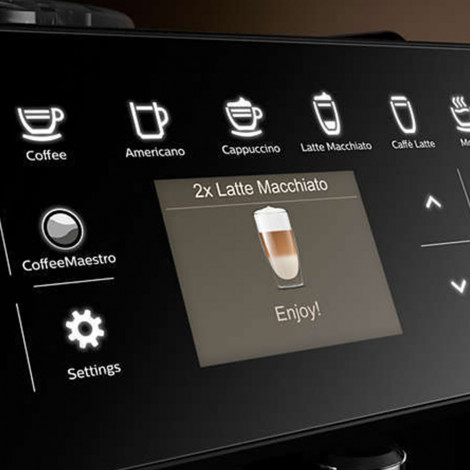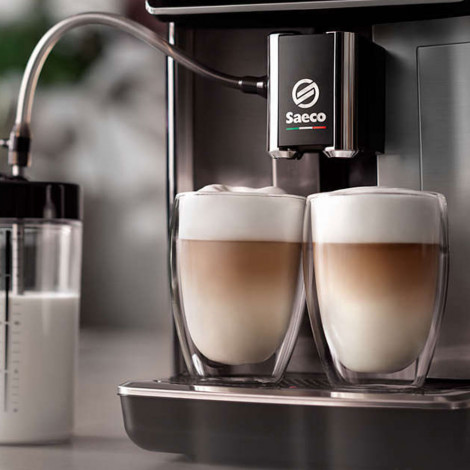 Coffee machine Saeco GranAroma SM6480/00
Become a member of COFFEE FRIEND'S VIP program and receive up to 5 vouchers of 10 € each for your upcoming purchases at COFFEE FRIEND'S online store. More information will be provided via your personal e-mail address once you've completed your purchase. The offer applies exclusively to natural persons.

Coffee machine Saeco GranAroma SM6480/00
In Stock
Specifications
Coffee machine uses
Coffee beans, Ground coffee
Milk system type
Automatic milk pipe system
Does coffee machine prepare hot water?
Yes
Does coffee machine prepare hot milk?
Yes
Height-adjustable coffee spout
150 mm
Water pump pressure
15 BAR
Country of Origin
European Union
Coffee machine's screen
Colourful
Coffee machine's menu language
Bulgarian, Czech, Danish, Dutch, english, French, german, Hungarian, Italian, polish, Portuguese, Romanian, russian, Slovene, Spanish, Swedish
Control type
Touch buttons
Coffee grounds capacity (portions)
12
Number of black coffees prepared at once
2
Number of coffee with milk recipes prepared at once
2
Adjustable grinding level
12
Portion size
Programmable
Adjustable milk foam volume
Yes
Coffee strength (levels)
5
Coffee temperature (levels)
3
Milk system cleaning program
Yes
Other
Hot milk, Hot water, Milk foam
Coffee
Americano, Black coffee, Café au lait, Caffè crema, Cappuccino, Espreso Lungo, Espresso, Espresso Macchiato, Italian cappuccino, Latte, Latte Macchiato, Ristretto
Package contains
(*The manufacturer reserves the right to change the items included in the set without prior notice*), Brew group grease, Ground coffee dosing spoon, Milk container, Milk lance, Water filter, Water hardness test strip
Coffee Drinks
Americano
Black coffee
Cappuccino
Espresso
Espresso Macchiato
Latte
Latte Macchiato
Ristretto
Caffè crema
Café au lait
Espreso Lungo
Italian cappuccino
About Saeco GranAroma SM6480/00
The bean-to-cup coffee machine Saeco "GranAroma SM6480/00" offers seemingly endless opportunities for you to adapt various brewing settings to your individual taste. You can do that by taking advantage of the preset flavour profiles found in the "CoffeeMaestro" menu or by using the "Coffee Equalizer™" feature to adjust settings one by one. There are 14 well-known coffee recipes in the menu of this appliance, all available at the touch of a button and offering the option of 2 portions being brewed simultaneously. Thanks to 4 integrated user profiles, each member of the family will be able to create and save their own favourite recipes.
14 WELL-KNOWN BEVERAGES AT THE TOUCH OF A BUTTON
Enjoy drinks you're already familiar with, such as espresso, americano or cappuccino, and discover new ones, like Italian cappuccino or café au lait. All of them are available at the touch of a button!
"LATTEDUO": BREW AND ENJOY TWO PORTIONS OF ANY DRINK AT ONCE
You can brew and enjoy one or two portions of any beverage at the touch of a button, including cappuccino and latte.
3 PRESET FLAVOUR PROFILES WITH "COFFEEMAESTRO"
Adapt your drink to your individual taste by choosing one of the available flavour profiles (Delicato, Intenso or Forte). Depending on the selected profile, the coffee machine will adjust all settings accordingly so that the resulting flavour is exactly to your taste.
CHANGE SETTINGS WITH "COFFEE EQUALIZER™"
Using the "Coffee Equalizer™" feature, you'll be able to adjust every setting to your individual taste, including coffee strength, coffee to milk ratio, drink temperature and amount of milk foam. Fans of intense flavours can even take advantage of the "ExtraShot" option!
4 USER PROFILES: SAVE INDIVIDUAL SETTINGS WITH EASE
Using a convenient display, each member of the family will be able to save their preferred settings thanks to 4 separate user profiles.
"DOUBLESHOT" OPTION FOR A PARTICULARLY RICH TASTE
Fans of intense flavours are bound to love the "DoubleShot" option of the "Coffee Equalizer" feature or the Forte flavour profile found in the "CoffeeMaestro" menu. Take advantage of two different ways to make your drink richer without adding any unpleasant bitterness to it!
BALANCED TEMPERATURE AND AROMA WITH "AROMA EXTRACT"
The smart "Aroma Extract" system ensures the optimal balance of brewing temperature and aroma extraction. By maintaining water temperature at 90–98 °C and regulating the flow of water, it guarantees a cup of delicious coffee every single time.
"LATTEPERFETTO": DENSE AND DELICATE MILK FOAM
The "LattePerfetto" technology ensures milk foam that's perfectly dense and delicate.
LARGE, AIR-TIGHT BEAN CONTAINER FOR COFFEE THAT'S ALWAYS FRESH
The large bean container is capable of holding up to 300 g of fresh beans, while the special seal, called "AromaSeal", helps the coffee stay fresh for much longer.
"HYGIESTEAM": UP TO 99.99% OF MICROORGANISMS REMOVED AUTOMATICALLY
Thanks to the innovative built-in "HygieSteam" cleaning system, ensuring the cleanliness of the milk system has never been so easy: simply insert the milk system tube into the hole located on the drip tray, push the cleaning button and allow the machine to remove every drop of milk residue all by itself using hot steam. With the touch of a button, "HygieSteam" removes up to 99.99% of microorganisms.
DURABLE CERAMIC GRINDERS: AS MANY AS 20 000 CUPS OF DELICIOUS COFFEE
The grinders found in Saeco machines are made from advanced-technology ceramic, which makes them exceptionally sturdy and accurate. You'll be able to grind fresh beans gently, without running the risk of them overheating. Extract all the best flavours and aromas, and brew 20 000 cups (or more!) of gorgeous coffee. The grinder can be easily adjusted with the help of 12 different settings.
BREW UP TO 5000 CUPS WITH NO DESCALING THANKS TO THE "AQUACLEAN" FILTER
"AquaClean" is a patented water filter from Saeco, which purifies water and so improves the quality of the resulting coffee. It also prevents limescale deposits from forming inside your appliance. Brew up to 5000 portions without the need to perform the descaling program — all you have to do is replace the filter regularly.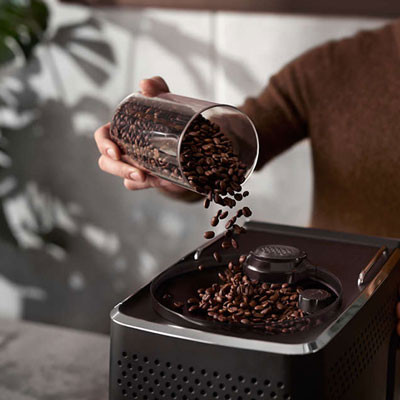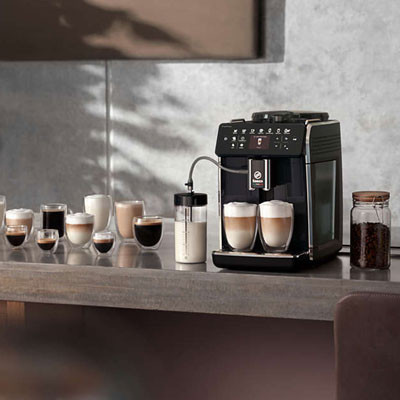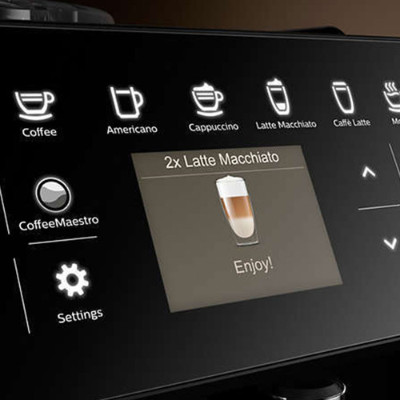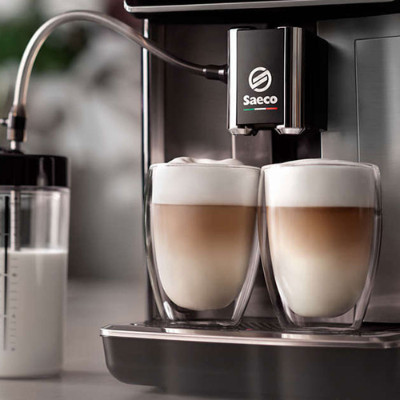 Frequently Asked Questions
Ask your question about the product
Saeco GranAroma SM6480/00 reviews